Alan Brand – HIV Speaker is a leading expert in the development and provision of innovative employee wellness strategies enabling business enterprises throughout South Africa to mitigate the threat of HIV and AIDS and other associated health and wellness risks.
He has developed numerous outcomes based wellness training modules and his personal energy and unique professional facilitation skills have inspired many. He is a sort after motivational speaker, conference facilitator and Master of Ceremonies available through Speakers Inc.
Alan is the author of 'Positively Alive' (published by Jacana in 2005), as well as 'Positively Alive Recipe Book' which was published by Micromega Publications in 2014
He is also the creator and administrator of a very successful web-based support, information and counseling resources network for HIV + men in South Africa.
Alan lives openly with his HIV status and he is dedicated to making a difference by breaking the silence and changing the mind-set of those he comes into contact with and you can follow Alan on Twitter.
In 2006, his title changed to Group Wellness Manager (HIV/AIDS), strategically positioning him to effectively and holistically develop and implement employee wellness initiatives for an employee workforce of 15 000.00
Alan Brand – HIV Speaker has project managed the ground-breaking approach to the treatment of HIV/AIDS through the introduction of a focus on nutritionally enhanced food products in the workplace. The initiative engages the hospitality sector's core competency to enhance immune wellness and thereby providing a positive impact on general wellness of all employees.
"Most organisations in South Africa have some form of in-house HIV management programme however few have considered the benefit of directly addressing the nutritional intake of employees infected with HIV. We want to place the focus on living with HIV, not dying of AIDS. While good nutrition will not cure HIV/AIDS, it most certainly can help maintain and improve health. It will also assist in generally boosting the immune levels of all employees thus having a direct and measurable impact on bottom line productivity and the reduction of the costs associated with HIV and AIDS in the working environment."
During 2005, Fedics (the diverse contract catering division of the Tsebo Outsourcing Group) was a finalist in the Global Business Coalition on HIV/AIDS Awards for Business Excellence in the category, 'Utilizing Core Competency'. The initiative received international exposure when it was featured in the awards publication distributed at the international awards gala in Washington DC. View further HIV speakers
Since establishing his own employee wellness consultancy business in 2011, Alan continues to provide the services of employee wellness consultant and specialist wellness trainer, HIV/AIDS program coordinator and employee assistance practitioner (EAP) to the Tsebo Outsourcing Group and an impressive customer base. By developing innovative and customized wellness initiatives for SMME's, large corporate Organisations, businesses and government departments, Alan Brand – Innovative Employee Wellness has been able to reach a broad spectrum of employers, employees, associations and Organisations in South Africa.
Alan writes monthly articles for the award winning wellness publication, 'The Ripple Effect' and he is the guest editor of 'The Ripple Effect World AIDS Day' special edition distributed throughout South Africa. These articles have been an inspiration to many.
Target market:
All employees at all levels and entry minimum requirement for the HIV/AIDS Counselling Skills for Peer Educators and Care Givers training module:
Course Content:
International and South African statistics on the incidence of HIV/AIDS
What is HIV? What is AIDS?
Understanding the disease and its progression
Understanding the immune system
How does HIV infection occur?
What are an HIV test, viral load and CD4 Test?
What is "SAFER SEX"
Mother to Child Transmission
Occupational Exposure to HIV
Rape and HIV transmission
Pre Exposure Prophylaxis (PreP) and Post Exposure Prophylaxis (PeP)
Universal precautions
Basic First Aid and HIV
The HIV test and your rights at work
Workplace HIV/AIDS policy
Guidelines on managing an HIV positive employee
Living positively
Understanding ARV therapy
The relationship between HIV and the increased incidence of TB, diabetes, cholesterol and other related health conditions

Both a compelling personal account of life after the diagnosis of HIV and a self-help guide for other sufferers and their families, this book concentrates on the emotional and psychological aspects of living with the virus. After warning that a retreat into silence and denial is dangerous both mentally and physically, the author shares his own journey to acceptance and passes on to readers the new mindsets that helped him most: the habit of positive thinking, a holistic approach to health and nutrition, an effort toward inner healing, and ways to fight loneliness. A guide to key words, phrases, and acronyms encountered when reading about AIDS is included, along with a list of resources and a bibliography.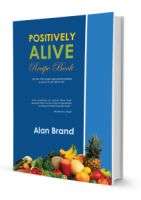 Good nutrition is vital for people living with HIV. HIV attacks the body's immune system, making the body less resistant to fighting infections. While nutrients do not destroy the HIV-virus, healthier eating can help you to live a healthier life. The provision of ARVs is vital to this process, and they should be an option and therefore freely available to every South African. However, many medicines and drugs (including ARVs) result in the body losing essential nutrients. Good nutrition will therefore complement and reinforce the effect of any medication taken. This book by Alan Brand – HIV Speaker provides immune boosting recipes as well as information on nutrition and diet for people living with HIV.