Andy Klee – Conference Entertainer tenacity and talent has seen her go to international heights. She has entertained in the hottest nightclubs in some of the fastest growing cities in the world, alongside British and Australian bands, namely Hong Kong and Dubai.
Andy has shared the stage with and opened performances for with great international bands including 'The Stateside Hombres', 'Dexy's Midnight Runners', 'Suede', 'The Fun Loving Criminals' and 'Suzi Quattro'.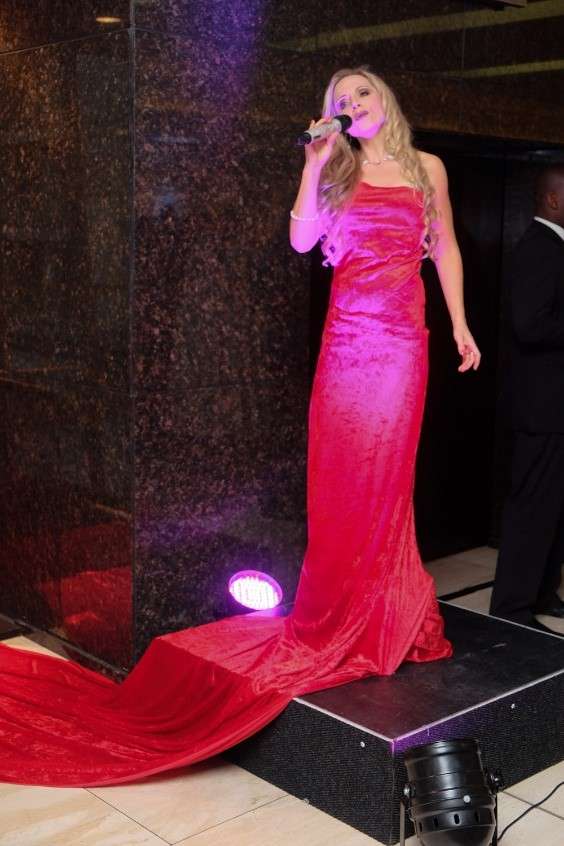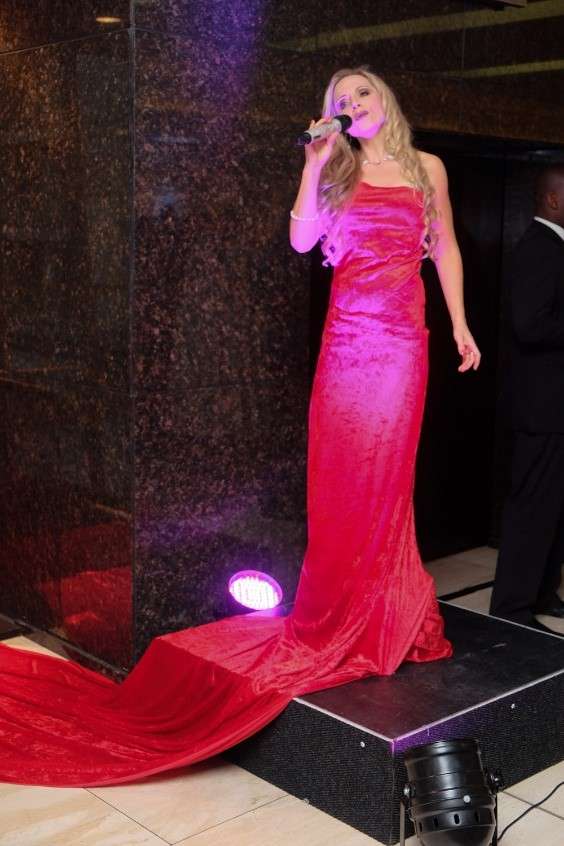 Andy (the lead vocalist of her band, 'The Usual Suspects', mainlined at the world recognised Dubai Rugby 7's concert.
Locally, she has performed with Steve Hofmeyer and Dozi and she was the blonde bombshell in the Afrikaans pop group, 'Love You So'.
On her return to South Africa, Andy reached the Top 25 of the South African Pop Idols competition and she has since been the frontline vocalist for 'Twilight Zone', headed by Neil Ettridge, Denny Laluette and Brandon Ross.
An accomplished MC, Cabaret and voice-over artist, some of Andy's regular clients include Altech, ABSA, BMW and FNB.
She has a repertoire ranging from classical, jazz, easy listening and pop to rock & roll and dance music. Her clients are offered a great package that can be tailored to suite every function's requirements.
Andy offers her clients the following performances:
Andy Klee 'Singing Lira'
'In every space there is light, a bright beam of energy and inspiration that excites and brings joy to all who experience it …'
A visual spectacular of light and inspiration is this remarkable vocalist in her suspended Lira!
Seated in her sparkling hoop, suspended in mid-air, Andy brings a new dynamic to of corporate entertainment to life.
She is able to perform all genres of music with a varied choice of costumes and accessories, which can be used to enhance the décor concept and theme of any event.
From attachable feathered wings to coloured lights and sparkling Swarovski crystals. Imagine Burlesque in real life, completed with choreographed dance routines or a set of enchanted tunes in an elegant cocktail dress.
Be it a single song to mark an important point of the evening or a 40-minute guest entrance set, Andy sings, seated in her hoop above the audience, creating an atmosphere of magic and ambience.
And if this isn't all enough, a descending hoop allows Andy to walk amongst your guests before, after or during her performance.
Captivate your guests with this perfect collaboration of light, space, music and visual spectacular!
Andy Klee's Red Carpet Dress – Make the VIP Entrance!
First impressions last – especially when your guests are welcomed to their event on a red carpet with a difference!
Make your event a memorable one and have the beautiful songstress, Andy Klee, perform angelic background music welcoming your guests on her Red Carpet dress.
The carpet and dress are one piece of crushed deep red velvet that may be draped down stairs, around corners, into the main venue or foyer or the guest entrance areas that have Andy singing as the centrepiece upon a small stage, lit and raised as a platform.
The carpet dress has a non-slip base and may be draped along carpet, tile or grass with a train of carpet that expands up to 20 metres in length. 
Her dress can be customized into any colour required to match your company's logo.
Performances last up to 80 minutes, as guests mingle and network in central areas.
Andy also performs as a solo artist, VIVO (Andy Klee on vocals and Elena Zlatkova on violin), Bond 007 Show (Andy on vocals with a saxophone and a violin).
SHOWREEL
SINGING LIRA
Technical Rider
Click here to view Technical Rider as a PDF
---