Angelique du Toit – Businesswoman is involved in the world of direct selling. She encourages people to live with greater purpose, passion and productivity. Angelique is now available through Speakers Inc.
A woman with no high school education, yet her business experience spans three successful decades in the world of Direct Selling and in addition, she started her own personal and professional development company called Women Arise! in 1999.
Angelique is an Executive at Annique Health and Beauty with a sales force of over 24 000 sales consultants.
Her book, 'Standing Tall in a Falling World' is in retail stores in South Africa, the USA and the United Kingdom, as well as on Amazon.com.
Presentations:
A Conference Key-Note Speaker and Seminar Facilitator of substance and style, who encourages people to live with greater purpose, passion and productivity in a meaningful, inspirational and instantly applicable way.
Angelique du Toit – Businesswoman speaks into your Life, Empowers your Leadership, Helps to Build Your Business or Create a Career, Drives your Dream into Reality, and Facilitates the kind of Future you want to live into.
"I am not an advocate of a one-size-fits-all presentation, but I am a great believer in crafting and detailing a presentation specifically suited to your objectives and required outcomes.
Where possible, I choose to meet with the organiser and decision-maker of the event to be sure that I receive an accurate brief to achieve your required outcomes. Just as people have different personalities, so organisations have different cultures and ways of representing their brands and service.
It is this uniqueness that I wish to capture and incorporate into my presentation to your delegates".
Key Note Topics Focus:
Personal Life
    Your Story Shapes Your Life.
    Arise & Be Everything You were Created to Be.
    Internal Transformation to create external impact.
Productivity and Business Effectiveness
    Creating Your Productive Environment.
    Tailoring Time through Powerful Planning.
    Sensational Selling Skills to supersize your Sales.
Life-Leadership
    Mentoring & Coaching (The Babushka Concept).
    Strategic Thinking – Significant Results.
    Building for Greatness.
Inspirational
    What are you holding in your hands?
    Challenge yourself to Excel.
    You win or you lose by the way you choose!
Training:
To give an overview of the work that Angelique does:
Being in the direct selling world for 30 years, She can train on sales, recruiting, leadership and self-ignition.
In the mix she can also train on presentation skills, motivation and self-development.
Her flag-ship seminar is entitled "Your Life-Your Business-Your Future" and it is a power-packed 6 session series that Angelique du Toit – Businesswoman Speaker has conducted in corporates such as PWC, Nedbank, Dept. of Health, SA Prison Services and a host of other blue chip companies.
Videos:
Testimonials:
"You had me, and every member of our audience, compelled at our high tea with your talk. I kid you not, we struggled to get things quiet but when you spoke – pin-drop silence. You had our audience lapping up the wisdom you so kindly shared".
Minisha Patel
Marketing Manager, Jacaranda FM.
"We would like to extend our thanks to you for spending your afternoon with the ladies of the Insurance Institute of Gauteng and Gauteng Women's Insurance Institute.
Your message was totally captivating and certainly touched the hearts of each and every women there".
Marguerite McGrath
Administrator & Events Co-Ordinator, Insurance Institute of Gauteng.
"It was such a treat to meet you yesterday!  The feedback has been overwhelming and the event rated a huge success – Thanks in no small measure to you".
Kim Gallus
Past President : Insurance Institute of Gauteng.
"It was indeed my pleasure to have met you! Your talk was nothing short of inspirational and superbly delivered from the heart. Thank YOU!  We will most certainly be making use of your services going forward."
Michelle Branco
Executive Head: Marketing, Vodacom Head Office.
Audio: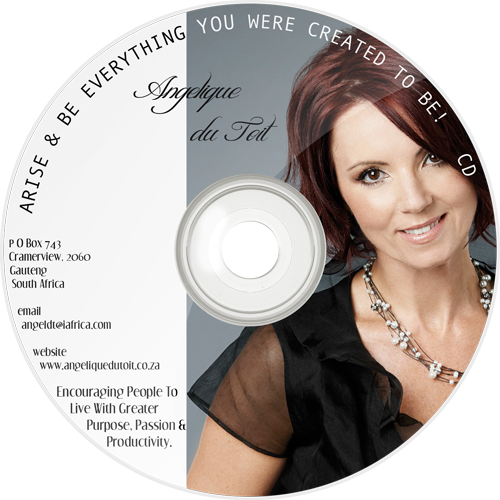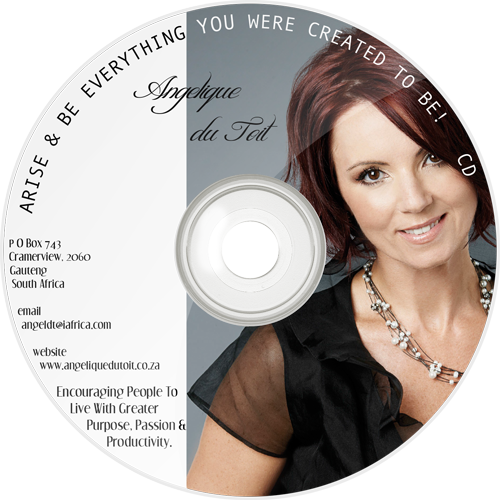 Arise & Be Everything You Were Created To Be
Arise and be everything you were created to be will inspire you to to live a vibrant life, choose healthy relationships and experience success in every arena of your life .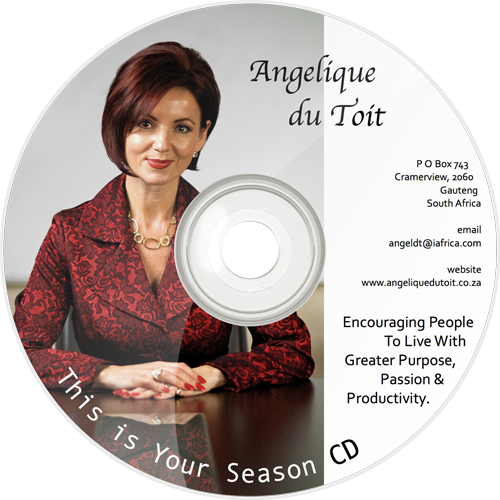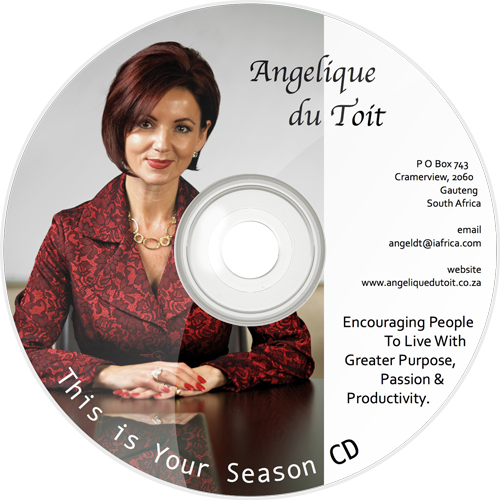 This Is Your Season
An invitation for you to ARISE from the place you find yourself, to being a person of influence and effectiveness.
Your Season is about you releasing the gifts and talents that are within you to share your life and shape the life of another.
It calls for courage and determination.
This could be your season that returns a rich harvest of fulfillment, joy, wealth and purpose.
Books: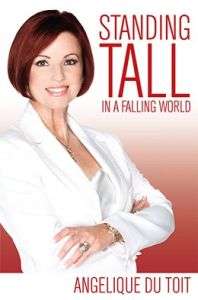 The concepts in this book relate to you and to every human being, regardless of what start you have had in life, where you might find yourself in your present, or where you are planning to go in your future.
This is not a book based on theory or hearsay, it is not second-hand revelation, but rather it is full of life-changing principles that have the inherent ability to bring about quantum changes in your life, if you choose to apply them and live by them.
Life experiences can at times leave you feeling confused, fragmented, depressed and directionless.
But then there is always an alternative; always another route, always the power and freedom to choose.
Life is only a dead-end when the end comes. Until then, you have the power of the 'Y' alternative.
The 'Y' in your life is the scenario where you are travelling on the road of life only to be confronted with a situation that demands a choice.
You can only go one way or the other. There is not the luxury of a 'middle road.' It is at this juncture that you win or you lose by the way you choose.
Follow Angelique on Twitter.