Braam Malherbe – Extreme Adventure has an infectious energy that is fed by his life-long passion to protect the environment and to inspire change.
Braam has achieved two world firsts by running the entire Great Wall of China, a distance of 4218 km, at a pace of a marathon a day for 98 days, as well as the entire coastline of South Africa, a distance of over 3200 km.
The expeditions raised over R2.5 million for Operation Smile, to provide corrective surgery for children born with cleft lip and cleft palate disfigurements. Now available through Speaker Inc
He represented South Africa in the 768 km unassisted ski race to the South Pole with Peter van Kets in December 2011 / January 2012. Braam's adventures are extraordinary and he is a riveting motivational speaker, applying lessons learnt in his experiences to talk about themes relating to goals, courage, leadership, teamwork, and purpose and making the impossible, possible.
As a conservationist and Honorary Ranger for South African National Parks, Braam is involved in counter-poaching and finding sustainable solutions to save the rhino from extinction.
He co-founded the Table Mountain National Park Volunteer Firefighting Unit and he is actively involved in many conservation initiatives – making it is life's mission to fight environmental irresponsibility and the destruction of our precious natural resources.
Braam is a Director for the Institute of Accountability in Southern Africa (IFAISA). He is also an ambassador for many worthy causes including Woolworths MySchool MyVilliage MyPlanet, Operation Smile SA, WESSA (Wildlife and Environment Society of South Africa) and the Amy Biehl Foundation.
Braam Malherbe – Extreme Adventure has been a regular presenter on the television program, 50/50 and he has also been contracted to present an international nature series for the National Geographic channel. View list of Premium Speakers
Braam challenges all of us to 'Do One Thing' (DOT), to make a positive difference to our planet. He has developed a social media site and application called DOT, which will be launched in 2015 to drive environmental action.
Braam has received the following awards:
Men's Health 2010 Unsung Hero
Enviropaedia Eco Logic Eco Warrior 2012
City Press Top 100 World Class South Africans 2014
Braam is a motivational speaker and MC
Braam's keynote topics include:
Nothing is Impossible
Braam believes that if you have big dreams, plan well and take big risks, then nothing is impossible. Follow Braam on Twitter
Let Braam show you and your team what it takes to make that 'extra' happen and to start realizing your full potential.
Leading with Courage
Leadership takes courage. Lieutenant J Putnam Junior said: "Courage is not the lack of fear but the ability to face it".
Braam believes that you first have to believe in yourself and to be comfortable in your own skin to be able to stand out from the crowd and to be open to criticism. Only once you trust yourself and you have the faith in your own integrity, others will too.
True leaders stand up in the face of adversity and they do the right thing. Respect is not given, but earned.
The 'I' in Team
The classic cliché goes, 'there is no 'I' in team'. Braam believes that without the 'I' in team, the individual does not fully understand or appreciate their value to the team.
In his talk, Braam draws on the many life lessons that he has learned in the African bush, the vastness of the Gobi desert and the frozen nothingness that is the high plateau of Antarctica.
The More you Give the More you Get
After a relatively successful career, at the age of 27, Braam Malherbe – Extreme Adventure was declared insolvent. He lost his father shortly thereafter and his fiancé left him. Dejected and his self-esteem shattered, he went off to the mountains to commit suicide. "I felt utterly insignificant, but I realized that the greatest challenge was not to die, but to live a life of purpose".
"When you do things for a cause beyond your own selfish satisfaction, you dip into a deeper, much more powerful pool of motivation. You move from success to significance."
Making Change Work for You
One of the key words that we need to urgently embrace is 'change'" says Braam. Charles Darwin put it succinctly: "It is not the strongest, nor the most intelligent that will survive, it is the one who most accepts change".
In this profound and life-changing keynote, Braam draws on his own experiences in the African bush and the many lessons that nature has taught him. "The myriad of species that interact to make this incredible planet as diverse and beautiful as it is, have all evolved over billions of years.
Braam Malherbe – Extreme Adventure
"There is no way I can thank you enough for the impact you had on our students during the ISCE. The message you sent and the experiences you discussed are absolutely incredible and inspiring. You are a true role model, not only in your accomplishments, but also your character and generosity. Suzanne Unger • Director of Student Programs & Curriculum, Operation Smile International Headquarters
"Braam is without doubt the best I have ever heard – and we have had 36 speakers to date. " Kevin Chaplin, CEO SA Ubuntu Foundation
"Braam Malherbe deserves more thanks – His presentation was like a movie – laughs, tears, drama, the whole shebang!! And wow we bought 4 smiles, how encouraging. Well done WC on an excellent choice of speaker. I hope we have got word to him of what he motivated us to achieve. "Thanushya Pillaye-President – SAAHIP Nation
BOOKS: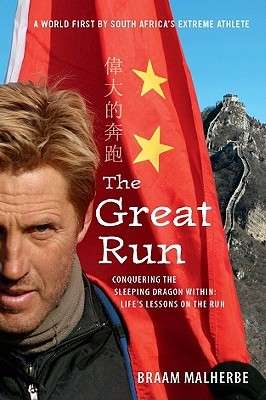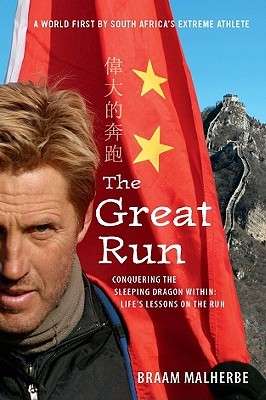 The Great Run, is an inspiring tale of two journeys – one external, one internal. One details the dream, the planning and the execution of Braam's world-first run along the entire length of the Great Wall of China. The other details what Braam has learned from extreme hardship and loss to great achievement and echoes his belief that nothing is impossible if you have big dreams.