Imagine this! Two phenomenal entertainers; two extraordinary vocalists; two implausible musicians; Clint Ghapi – Conference Entertainers two enormous personalities; together on one stage!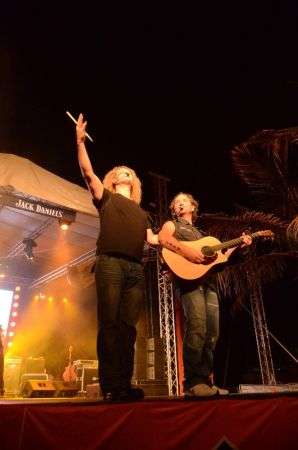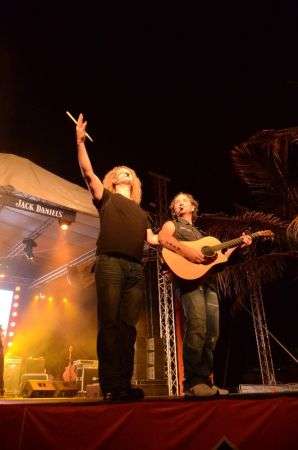 Clint Cunningham is no stranger to South African audiences. After 15 years of slogging the pubs and clubs all over South Africa (reportedly the highest paid one-man band in the country at that stage), Clint is now enjoying great success with his various shows in top theatres.
His Creedence Clearwater Revival Tribute (over 600 shows in ten years) has rocked sold-out audiences at all of The Barnyards as well as The Performer Theatre, Richard Loring's Sound Stage, all of the major casinos and many other venues such as The Rustic Theatre on Main, The Blues Room and The Firkin in Centurion.
Clint Ghapi – Conference Entertainers
Clint performed in the Carnival Symphonic Pops and he was very well received! He sold more CD's after each performance than any of the other artists! Due to popular demand, Clint was determined to do the Creedence Clearwater Revival Tribute at Carnival City's Big Top Arena in 2008 – performing to over 1500 people.
From this success, Clint and his immensely competent band went on to perform Clint's U2 tribute, 'Rattle and Hum', shows called 'Joe Cocker & Friends' and 'Rock on Safari'. Book through Speakers Inc
The Midnight Hour' ran for 6 months at Richard Loring's Sound Stage and 'Thunderstruck' ran for 5 months over 2 years at the Globe Theatre Gold Reef City.
Clint's production 'The Midnight Hour', featured Connie Friedman on sax and keys, Rene Mabotha and Caitlin Cunningham on vocals.
They packed the Sound Stage in 2007 & 2008, 7 shows a week for close on 6 months. This is an amazing achievement for any artist.
The band (Clint & Co) have toured Zimbabwe several times playing to almost 4000 people in Harare. They rocked Maputo, Gaborone and Swaziland, toured Cape Town and the Garden Route with huge success and they have done a myriad of corporate events from the V&A Waterfront to the Sun City Superbowl.
2 slots on Steve Hofmeyer's 'Dis Hoe Dit Is' and SABC 3's 'Noot vir Noot' (plus a guest spot on 'Egoli') has received great response for Clint.
With 15 albums down the line, Clint has a massive original repertoire including his hit song 'Cry Baby Cry' and two very successful Afrikaans to English translations.
Clint also surprised his fans in 2012 with the release of his first book, a fantasy adventure novel called 'Sothafa' and his latest announcement is his DJ slot on 93.8 MIX FM every Wednesday evening where he gets to sing live in the studio and to play his most favourite songs.
"Ultimately, Cunningham's mission is to create great rock music in the name of fun. It is a refreshing change in a world full of pop idols and posturing. With boy bands and wannabe singers dominating our airwaves, Cunningham and his sidekicks are emerging as one of the few 'real-deal', 'no frills' bands on the local music scene."
Peter van der Merwe, The Star
Ghapi. A drummer that sings? Strange but true!
Ghapi is the huge man with the huge voice and huge hairdo that plays up a storm on his huge drum kit!
In January 2005, Ghapi was introduced to the public with Ghapi (and his three-piece band) quickly winning the reputation as the new Afrikaans rock sensation. Ghapi's unique ability to communicate with the audience (and the way in which he involves the audience in his performances), places him in a league of his own.
With four number 1 hits such as 'In die Diepkant In', 'Ek wil jou he', Dis net jy' and 'Wie ek is', Ghapi's 'I like it' reached number 5 position on the Kovsie FM charts. The song 'Wens' reached number 6 on the OFM charts and 'Dis net Jy' reached number 8 on the Bay FM charts.
With 32 years of experience, Ghapi is no newcomer to the music industry. Most people got to know Ghapi between 1989 and 2004 as the singer and drummer for the group 'Georgia'.
Ghapi's first CD, 'In die Diepkant In' was launched during KKNK 2005 with a variety of songs that are played on radio stations countrywide. A German radio deemed it fitting to add some of his songs to their playlist too!
6 of Ghapi's music videos are currently broadcasting on MK89 and kykNET. His first DVD, 'In die Diepkant In', was released in March 2007, the CD, 'Wie ek is' was released on the 28th of June 2008 and his latest CD, 'Rock It' was released on the 1st of July 2009.
He also features on the 'Naranjo' album, 'Saints & Sinners' (released in 2010), as well as 'Steyn & Ghapi Unlimited' (released in 2011).
His name (Ghapi) derives from Phillip's nickname, 'Guppy'. As a baby, he was a busy body and his father named him after the lively little fish.
During April & May of 2010, he toured through South Africa with 'The Queen of Rockstar Supernova, Dilana' who was so impressed with Ghapi's energetic performance, that she invited him (with his entire band) to perform with her in Afghanistan during August of 2010.
Clint Ghapi-Conference Entertainers is not only a singer, writer, composer and drummer of note, but he also manages his own record company, Rock Till You Drop Records. Follow SI on Twitter
Clint Ghapi-Conference Entertainers
TECHNICAL RIDER
GHAPI & CLINT
2 piece:
drums (main vocal)
guitar (main vocal)
Full PA and lighting at Promoters discretion
Stage 4m x 3m
Clint:
1 x DI for acoustic guitar
1 x Line for headset (headset supplied by artist)
1 x Monitor
Ghapi:
1 x Kick drum with mic D112 / Beta 52 with stand
2 x Conga's with mics SM57 with stand
1 x Hi-hat with overhead mic AKG / Sure condenser with stand
1 x Overhead mic AKG / Sure condenser with stand
2 x DI for trigger pad
1 x Line for in ears (in ears supplied by artist)
1 x Line for headset (headset supplied by artist)
1 x Monitor
Should the band be booked as a three piece:
Bassist:
1 x Bass amp
1 x Backing vocal mic with stand
1 x Monitor