Dr Don Pinnock – Investigative Journalist is an investigative journalist and a Research Fellow at the Centre of Criminology and Safety and Violence Initiative (SaVI), UCT.
He is an associate of Southern Write, a group of African travel and natural history writers and photographers, a former editor of Getaway magazine in Cape Town and a public campaigner for the rights of children and young people at risk. 
He also champions the protection of earth's dwindling wildernessAs a criminologist, he was one of the co-drafters of the Youth Justice White Paper for the Mandela government which became the Child Justice Act.
He is a specialist in adolescent deviance and was one of the founders of the Usiko Trust working with high-risk youth. Book through Speakers Inc
He is presently its chairperson. He is also a trustee of the Chrysalis Academy and founder of Umzi Wethu, a residential programme for Aids orphans.
Dr Don Pinnock – Investigative Journalist
Some time ago he realised he knew a good deal about humans but very little about the natural world. So he set out to discover it. This took him to five continents – including Antarctica – and  resulted in five books on natural history and hundreds of articles about his travels. 
Don has a PhD in political science, an MA in criminology, a BA in African history and has published a post-doctoral study on gangs, rituals and rites of passage. He has held lectureships in Journalism (Rhodes) and Criminology (University of Cape Town) and conducted his PhD research at SOAS, London University. 
He was the first Writer in Residence at South Africa's Antarctic Sanai 4 base in Queen Maud Land (2005/6) and has written 17 books and many articles and chapters. 
His book Gang Town won the City Press Tafelberg Non-Fiction award, his novel Rainmker  was shortlisted for the European Union Literary Award and he won a coverted Mondi Award for his column on the environment, Natural Selections.
Dr Don Pinnock – Investigative Journalist
He and his wife, the novelist Patricia Schonstein, live in Cape Town. Follow on Twitter
His keynotes include the following:
• Gangs, crime and adolescent crisis
• Working with wilderness rituals
• Rethinking youth policy
• How to talk to adolescents
• Cape Town: a tale to two cities
Gang Town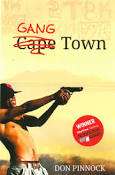 "Cape Town is two cities. One is beautiful beyond imagining, known since its beginning as the 'fairest cape' in the world. Here tourists come to lounge on beaches, scale misty peaks and dine in fine restaurants. …CRIMINOLOGY
Dr Don Pinnock – Investigative Journalist
Elsies River
The Brotherhoods
Gangs, Rituals & Rites of Passage (with Dudu Douglas-Hamilton)
Wild Resilience (with Elzette Rosseau)
HISTORY
Telona: The history of a private labour recruiter
Writing Left
BIOGRAPHY
Ruth First
They Fought for Freedom: Ruth First
TRAVEL
Blue Ice: Travels in Antarctica
African Journeys
The Woman Who Lived in a Tree
South Africa, a Celebration (with Gerald Hoberman)
ENVIRONMENT
Natural Selections
Loveletters to Africa
Wild as it Gets
FICTION
Rainmaker