Dr Graeme Codrington – Futurist Speaker
Dr Graeme Codrington – Futurist Speaker is an expert on the future of work and the disruptive forces that are shaping it.
As an author and researcher, his insights and analysis are sought after by business schools and CEOs around the world, with five degrees, four bestselling books and a full time research team at his company, Tomorrow Today, to back it up.
Graeme works as a Board Advisor, Strategist and as a keynote presenter and facilitator, using multimedia, a gently rebuking humor and an engaging style to make his insights accessible and inspiring.  Book through
Speakers Inc
Dr Graeme Codrington – Futurist Speaker
He has a particular interest in trends affecting how people live, work and interact and connect with each other.
Dr Graeme Codrington – Futurist Speaker works with organizations around the world to help them prepare for the future and to develop their leaders.
Speaking internationally to over 100 000 people in more than 20 different countries every year, Graeme has shared the platform with the likes of Edward de Bono, Michael Porter, Kofi Annan, Markus Buckingham, W.Chan Kim, Allan Pease, Sir Ken Robinson and Neil Armstrong.
He has won numerous awards for his speaking and facilitation, including 'Speaker of the Year' from the Academy for Chief Executives, he has attained the Global Speaker Federation's Certified Speaking Professional Global' qualification and he is a Fellow of the Professional Speakers Association.
He is the only speaker in the world to be inducted into two speakers 'Hall of Fame' (Southern Africa and the UK and Ireland).
Graeme is the co-founder and an international partner of TomorrowToday Global, a firm of futurists and business strategists.
He is a guest lecturer at a number of top business schools, including the London Business School, Duke Corporate Education, Cornell and the Gordon Institute of Business Science. He is a professional member of a number of associations, including the World Future Society, The Institute of Directors, and the International Association for the Study of Youth Ministry, the Global Federation of Professional Speakers and MENSA.
Graeme has a Doctorate in Business Administration (note: his DBA was awarded by the now non-accredited Rushmore University – Graeme is in the process of pursuing further doctoral studies.), a Masters in Sociology, an Honors in Youth Work and two undergraduate degrees – in Arts (Theology/Philosophy) and Commerce.
Graeme's breadth of knowledge and expertise makes him highly relevant in today's rapidly evolving business world. Along with his formal qualifications and research credentials, he has a wide range of business experience.
He did Chartered Accountancy articles at KPMG, Dr Graeme Codrington – Futurist Speaker was involved in an IT startup, he has been a professional musician, a strategy consultant and now, a fulltime speaker, facilitator and author.
His client list includes some of the world's top companies and CEOs invite him back time after time to share his latest insights and to help them and their teams gain a clear understanding of how to successfully prepare for a disruptive future. Follow on
Twitter
 What does Graeme speak about?
He speaks about the future world of work. His research and background have a strong emphasis on technology, demographics, strategy and innovation.
His goal is to help his clients – as individuals and organizations – to understand the forces that are changing the world and to learn how to proactively prepare for the future.
Graeme will work with you to customize his content and approach for your event and your audience.
He has presented in over 50 countries and he is known for his ability to work with people from diverse countries and cultures.
Dr Graeme Codrington – Futurist Speaker
"I invited Graeme to come and talk at our leadership alumni event about disruptive change, and
the impact it has on leadership in an organisation. I am pleased to say that Graeme really nailed
it. His message kept the audience engaged and raised the level of thinking in the room. Graeme
did an amazing job of weaving the topic into the role of leaders and how they need to change
their game going forward."
Michael Brand – SANTAM
"Thank you very much for an exceptional presentation. It was engaging, thought provoking and perfectly positioned for our audience. The feedback from our delegates was very positive. You certainly have challenged us all! I would love to see you speak again, in fact, I would really love my two children to hear your presentation." Julliette Morrison, Group Marketing Director Foodcorp
"Graeme's presentation 'Mind the Gap' was fascinating, funny and thought-provoking. I doubt that any delegate came away without at least one idea that will change the way they look at their lives and their businesses. We received excellent feedback from our conference as a result." Clive Viegas Bennett, CEO MGI Business Solutions Worldwide
"Graeme was recommended to me by my marketing consultant as an appropriate speaker for the National Conference of The Corporate Finance Network – and boy, was she right! His presentation content was mindblowing, his delivery was professional and stylish and his slides were spot on. If you need a keynote to speak at your event about the future of business, hire him! I lost count of the number of times I heard delegates discussing his presentation in the bar on the evening after the event!" Kirsty McGregor, Chairman The Corporate Finance Network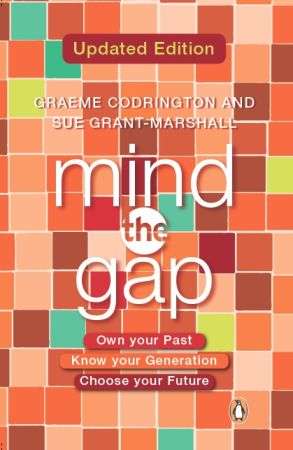 Why read it:
    A detailed introduction to understanding generations
    A thick book (over 400 pages), but easy to read format
    Apply generations to many different contexts, from family to work, and advertising to teaching
In short, this title aims to promote understanding between the generations. This is vitally important in all of our relationships, especially in the workplace.
Application chapters focus attention on: work, marketing and advertising, leadership, teamwork, finances, parenting, education and training, "retyrement", travel, politics, faith, health, and home. Still a best selling book, with five star reviews!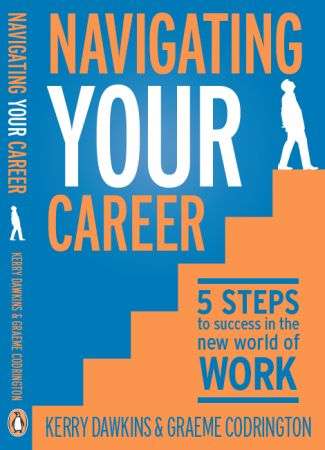 Why read it:
    Make more of your career by learning how to create a long term plan
    Understand how changes in the world of work in the next decade will shape your career
    Identify the opportunities for personal growth, development and securing your future
It all starts with a radical mindset shift: treat your career as a journey to be navigated. Then follow five steps for lifelong job satisfaction. This is not a quick fix solution. It will require some hard work and focus to become a career navigator. The good news is that hundreds of people have already successfully followed the advice in this book. You can join them today, and start to reap the rewards of a fulfilling and rewarding career.
The best time to start properly navigating your career is twenty years ago. The second best time is today. Don't delay. Start now.