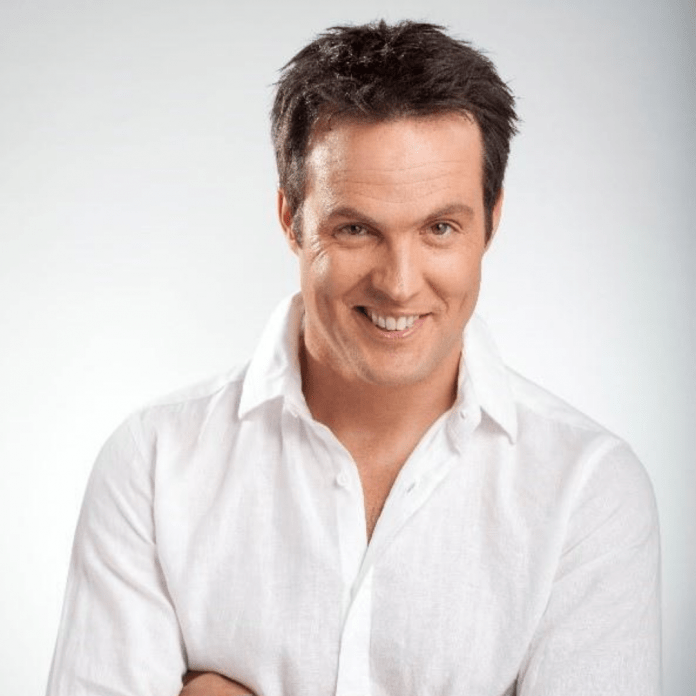 Dr Michael Mol – Wellness
didn't go for career counseling, which could explain why he's a medical doctor, An executive TV producer & presenter, an international speaker, business consultant and a founding director of a multi-national company called Hello Doctor, now available through
Speakers Inc
.
His twitter profile sheds more light:
"A husband to one, father to three, friend to few, a stranger to many… but not to God."
A trauma doctor turned TV personality with a Mr. South Africa title in the mix, Dr Michael Mol – Wellness Executive Health Executive Health traded the casualty room for the small screen and anchored Top Billing, South Africa's longest running prime time television magazine show, for more than a decade, scooping up several critically acclaimed awards along the way.
Michael's passion for discerning what makes people tick led him to co-founding TomorrowToday – helping organizations navigate the 'New World of Work' followed by The Revolution Group – helping people unearth what they were born to do through discovering their innate strengths. He has spoken to companies around the world and has been recognized as one of the SA's top business speakers with a Hall of Fame distinction.
Business aside, in 2010, Michael launched SABC 3's live morning show Expresso, as anchor presenter.
Then as Executive Producer and presenter he melded his passion for medicine and media and produced two new TV series: "Hello Doctor" and "The Dr. Mol Show" with a vision to educate, entertain and inspire people to live their best life, by being the healthiest they can be.
Watched by over a million people weekly, the show was part of a bigger vision to give every South African access to personal, affordable and quality healthcare through access to doctors via their mobile phones.
That vision became a reality with "Hello Doctor" – a mobile healthcare company of which he is a founding director. Hello Doctor's game-changing approach to healthcare, using mobile technology to give anyone access to doctors anytime, anywhere – has spread globally, operating in several countries.
Michael has been commissioned to write a second book, on the back of his first best-selling publication "Your Best Life." Follow Michael on
Twitter
Aside from all the hats he wears, Dr Michael Mol – Wellness Executive suffers from an insatiable thirst for adrenalin! From sky-diving out of a hot-air balloon, running the bulls in Pamplona, scuba diving under a frozen lake, wing walking on a bi-plane, surfing the great Zambezi white waters on a body board, flying to the edge of space in a Russian Mig and bungee jumping off the highest bridge in the world backwards – there's nothing that he wouldn't tackle… yet!
PRESENTATIONS:
Its Your Move
Are you really healthy? When it comes to exercise, most of us know WHAT to do, even HOW to do it, but getting to grips with WHY, will make all the difference.
"You may not be sick, but that does not mean that you are healthy"
Health is not our default setting, it requires daily, pro-active investment. The best way to do that? EXERCISE!
• We all know how important exercise is. It makes us feel good and it can drastically improve how our body functions. Why then, is it so hard to get off the couch?
• If you are one of those people who just can't understand people who wake up at 05:00am to go to the gym, or considers the phrase 'fun run' an oxymoron, then it is time to discover your WHY.
With just a few practical on-the-spot and in-your-seat assignments, Michael will help you with the opportunity to identify your personal WHY.
Strengths Revolution
Do you have the opportunity to do what you do best every day?
Chances are, you don't. All too often, our natural talents go untapped. From the cradle to the cubicle, we devote more time to fixing our shortcomings than to developing our strengths and that's not clever. Your unique mix of talents and passions are not merely what set you apart – they define your lasting success and your ability to be the best at what you do.
Play to your strengths and you will succeed … that's a no-brainer. Yet despite the compelling fact, most of us don't live our lives this way; instead, we choose to ignore our strengths and to focus on our weaknesses – concentrating on what's wrong with us, as opposed to what's right with us.
The Revolution Group is a group of passionate individuals determined to start a revolution, a revolution that will change the way in which we live and work forever.
Work-Life Balance?! Get a Life!
On your marks, get set … think.
Why is it that despite the speed and efficiency of the 21st century there's still too much to do, and too little time? We live our lives in the fast lane, but are in danger of falling asleep at the wheel. Exhaustion has become the most prevalent health epidemic in modern times, yet we continue running on empty, tipping the scales and upsetting the balance – begging the question: "Are we really living at all?"
There is an answer, a distinct, proven remedy to manage the all-consuming 24/7 work ethic. "It's about time!" you exclaim. Actually, it's not … it's about Energy. Time is only valuable when it intersects with energy. What matters is not the amount of time spent but the energy that's invested in the time that you have, whether at work or at leisure.
Since Energy is defined as the capacity to do work, every business requires adequate energy to drive successful execution. Energy is therefore the fundamental currency of business, and arguably the most important asset of any organization.
Concepts covered in the Keynote:
• Understanding Biochemical Energy
• The diagnosis and consequences of mismanaging our energy
• Debunking the Myths and paradigms of traditional management
Dr Michael Mol – Wellness
"The secret to lasting success, individually and organizationally,
lies in how we manage our energy."
Marcus Buckingham Author:
"First, Break all the rules" and "Now, discover your Strengths."
TESTIMONIALS
Michael's speech was excellent and made you realize that you have to find a balance in life. It was quite scary to discover that as an employee most of us are under-utilized and our real strengths are not recognized. I learned that you define who you are both in your personal and work environment and to do what you love, those are your inherent strengths.
Elnarie Hendricks
Sanlam Healthcare Distribution Services
Michael's presentation was inspiring and memorable – his content of his presentation really "hit home" for many of our employees and they truly enjoyed the message he delivered.
Lauren du Preez
Business Connexions
The Medical Aid & Insurance Conference CPT will take soon and we hope you will be available to present again at this conference.
You were rated the best speaker at the last conference so it is important for me to have you on the programme again Michael.
Gert Botes
Project Manager – Trade Conferences International
Thanks again for sharing your time, wisdom and insights at our "Company Day". It was indeed a privilege and pleasure to have had you at our function. Your incisive message went down very well with our staff.
Dan Pillay
Head: Human Resources – Syngenta South Africa (Pty) Ltd
---