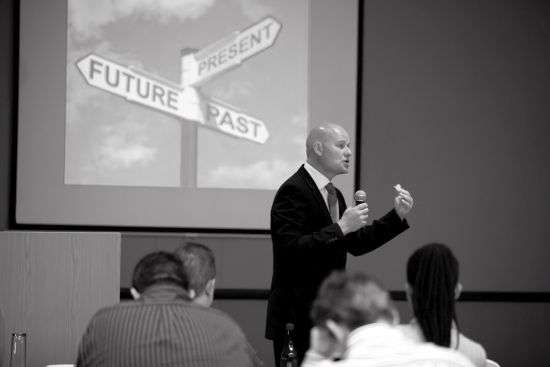 Eddie Botes – Cultural Development is a top business culture speaker and facilitator based in South Africa. For over a decade and a half, Eddie has been inspiring and challenging audiences to think differently in a world that is changing faster than we can imagine. Eddie Botes has spoken and trained in eight countries with audiences as diverse as corporate executives in multi-national organizations to traditional leaders from some of the most remote locations on the planet.
Eddie Botes is the founder of LeaderShift, an organization dedicated to inspiring and developing greatness in leaders and helping organizations manage talent effectively by offering state of the art profiling and assessment tools designed for job match, succession planning, coaching and development. Book through Speakers Inc
Eddie Botes is authentic, engaging and dynamic presentation style combined with meaningful content will push the boundaries of your current thinking and challenge you to see yourself, your company and other people through new lenses. He has the ability to connect with audiences across the boundaries of age, gender, race, social status or belief system and the message he leaves will linger long in the minds of delegates and inspire them to take meaningful action. Eddie is not the kind of motivational speaker that will ask audience members to give each other a high five or a hug and stand on their chairs repeating various mantras. You can expect a speaker whose content is well researched, entertaining, packed with great content and relevant take home tools.
Eddie Botes is a member of the Professional speakers association of Southern Africa and is the current President of the Cape Town chapter. He is also a member of the Global speakers federation. He lives in South Africa and travels from Cape Town. Follow SI on Twitter
As a motivational speaker and facilitator, Eddie Botes – Cultural Development has worked extensively in Nigeria, Ghana, Mozambique, Botswana, Malawi, Zimbabwe, Zambia and South Africa for organizations like:
Tsogo Sun,
UBA,
EcoBank,
Stanbic,
BMW,
VW,
Ford,
Renault,
Santam,
TEC,
Engen,
Eskom,
Copperbelt energy corporation,
ZESCO,
Kariba North Bank,
BP Africa,
Saldanha steel,
ZANACO,
Zambezi river authority,
Madison insurance,
Mass Discounters,
Masscash,
DUT,
Network configurations,
Dept of correctional services,
Dept of local Govt and traditional affairs,
Ndola lime and many others.
He lives in South Africa and travels from Cape Town.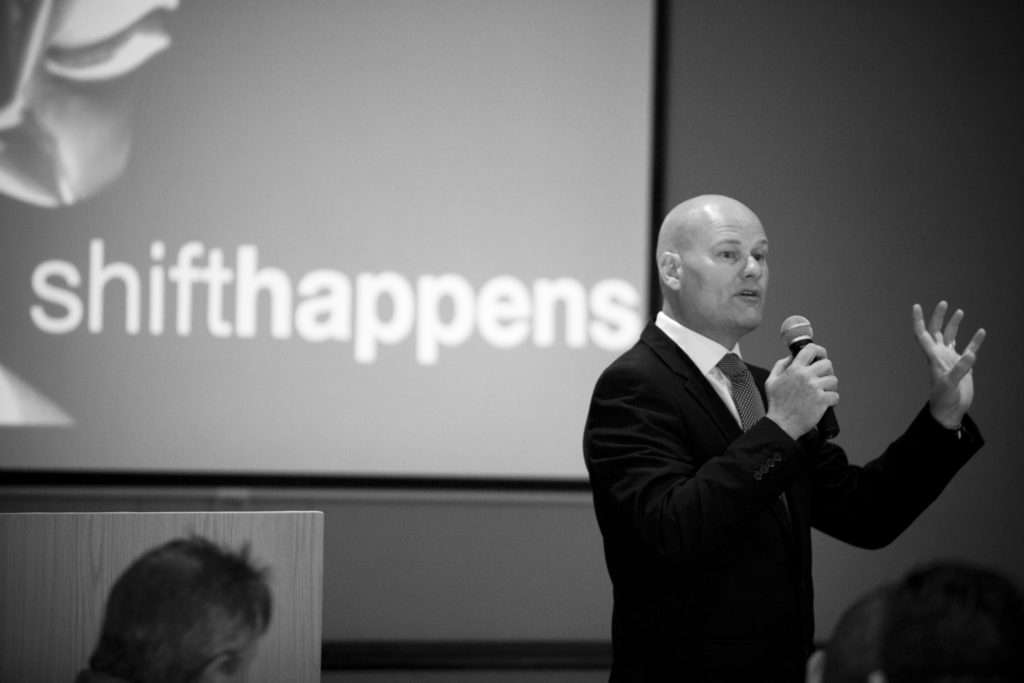 Keynotes:
Achieving Peak Performance
Throughout time, we have been obsessed with explaining why some people succeed and others don't. What is that distinguishing factor?. Is it nature or nurture – genetics or environment. Decades of research has been conducted in this area and the evidence points to the following two facts:
The correlation between IQ and exceptional performance is rather frail in many areas, including chess, music and academia.
"Natural talent" or ability from an early age is no indication of later exceptional performance.

So, what makes the difference then?
Why is it that so many of us can spend years in our industry and never improve?
This presentation will equip you with the attitudes, knowledge and practical tools to start the journey toward peak performance, whatever your chosen field.
Leadershift
They are not entirely clear about where they or their organisation is headed or what its highest priorities are and don't feel that they have much control either in changing anything. Today's world is fantastically complex and requires all of a leaders capacity, and the shared capacity of the team to stay competitive and effective.
This presentation is about shifting our leadership paradigms to create the kind of culture that drives exceptional performance.
Shift Happens
This presentation explores a brief history of our species and the incredible and prolific rate of change that has taken place in our world. We look at some of the major forces and trends impacting the future of work and the world in the next few decades. Packed with great research and thought provoking insights this presentation will give audience members a glimpse of how we can adapt and thrive in a changing and turbulent world.
The Power of Influence
This presentation looks at the psychological drivers and principles of influence and how we can use them to improve sales. Designed for sales professionals that want to improve their sales results, this insightful presentation will provide delegates with the attitudes, tools and knowledge to become master influencers.