In December 1989, Gaynor Young – Inspirational Motivational a young and talented actress stepped onto the stage of the State Theatre to debut as Guinevere in the musical Camelot. Gaynor is now available through Speakers Inc.
What should have been the most important night in Gaynor's life, proved to be catastrophic. Mistakenly, she stepped into an unguarded lift shaft and fell 18 metres.
Gaynor came close to death and spent weeks in a comatose state.
The doctors who operated on Gaynor had little hope for her survival, let alone her recovery. She was in a coma for 4-weeks.
Once awake, Gaynor could not walk, talk or hear.  She had only 40% of her eyesight left, and suffered severe memory loss.  Like a child, she had to learn from scratch how to do basic daily tasks like brush her teeth, or eat with a knife and fork.
Amazingly, Gaynor survived and her story of hope and courage leaves audiences around the country marveling at her inner strength and determination to get over her unfortunate accident.
The fall left Gaynor 60% blind with partial brain damage, 2% hearing in one ear and no peripheral vision at all.  But with grit, determination (what she calls sheer stubbornness) and faith, she has survived these devastating odds and lives a successful and fulfilling life.
Four and a half years after her accident, Gaynor Young fulfilled a promise she made to herself, appearing once more on stage – this time to tell her incredible and heart-warming story in her production, "My Plunge to Fame".
Book:
My Plunge to Fame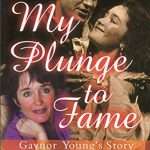 Video: