Hot Water – Conference Corporate Band
Hot Water – Conference Corporate Band and Donovan Copley is the madman of the South African music scene for sure! His genre-bending creation, Hot Water, is a fusion of everything we love and know about being South African.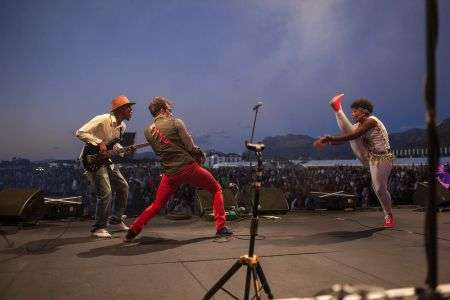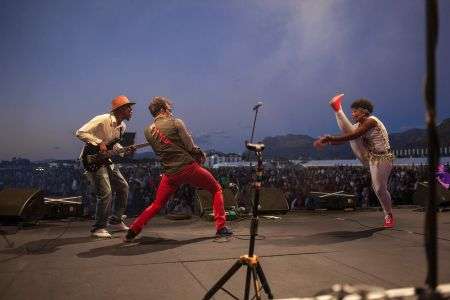 From 'kwasa-kwasa' to 'sakkie-sakkie', from folk and blues to maskanda, you know you are in the presence of the crazy and the profound – it has grown and organically evolved through a musical exploration of what it truly means to be home.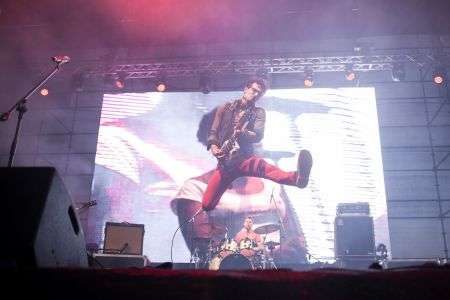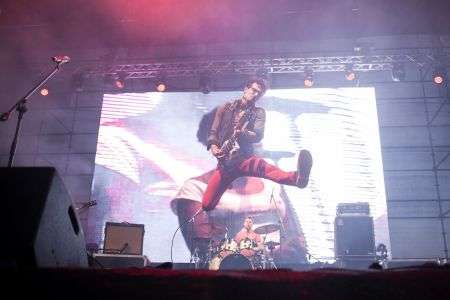 Hot Water – Conference Corporate Band
Cape Town's Hot Water launched onto the scene in 2006, and they have since cut three critically acclaimed studio albums and played at every major music festival in the country, including Kirstenbosch Gardens Summer Concerts, Rocking the Daisies and Oppikoppi (to name a few!)
They have also performed with musical legends such as Hugh Masekela, Johnny Clegg, Mango Groove and FreshlyGround, as well as spontaneously hitting the stage with artists including Karen Zoid, David Kramer and Dizu Plaatjies.
Widely featured in many local and international commercials and shows, and the only band to have performed on top of Table Mountain, Hot Water is unstoppable. Book through Speakers Inc
From very early on, Hot Water garnered attention from across the globe. Follow on Twitter
They have performed in over ten different countries; from the twelve thousand-strong crowd at WOMAD Caceres, Spain to the Royal Carre Theatre in the Netherlands, Hot Water has taken its distinctive South African sound across the globe – and the world can't get enough.
On stage, Donovan is a master of the unexpected. Whether he's hanging from the scaffolding or breaking out into a toyi-toyi, there's no doubt that you're in for some unforgettable fun!
Locally rooted, while at the same time internationally successful, Donovan Copley's Hot Water is an irrepressible wellspring of joy, an honesty, found deep in the roots of what makes us human,
Finally, it has arrived – a musical statement of happiness and one hell of a jam!
HOPPING FROG
SIKI SIKI
Hot Water – Conference Corporate Band
Review from independent (National) newspapers re Splashy Fen Festival:
"…Hot Water, the Cape Town band which is among the best in the country. They might even be the best –
or that's how it felt in the Grant Erskine Marquee on Friday night."
Live Review from Womad UK 2012
"Hot Water…South Africa's most happening band." (Jan 2012)
Mail & Guardian
"Hot Water…were the talk of the Festival." (Review of Oppikoppi Festival 2011)
Cape Argus, The Star
"Hot Water…continued to build the audience into a frenzy with their truly African
sound, I would liken them to Paul Simon…" (Review from Splashy Fen Festival)
What's On SA
"Hot Water, some say, is the next big South African band…"
Sunday Independent
"Donovan Copley…his voice is indeed one that is unique and very South African. The
songs draw on many traditions from folk and blues to township grooves…this music
is honest…and one of the many important voices of young South Africa."
Cape Etc.
"The band is something of a musical cross section of the city [of Cape Town]….I've
seen everyone from metal heads to old timers enjoying these vibes."
BLUNT Magazine
"Immediately we're all going "Hows these ous? " – that's how good this album is… there's a very unique South African sound and flavour mixed in here that makes it stand out on its own."
Zig Zag Magazine
"Hot Water must easily be one of the most exciting music projects to come out of SA…Its concoction of homespun melodies and esoteric clarity makes for a welcome mix of African warmth and Eastern wisdom. Home is cultural versatility in music."
The Citizen