Ina Paarman – Business Speaker is a qualified Home economist, left her position as Senior Lecturer at the Cape Technicon to start a cookery school in 1982.
During the next 8 years the business flourished and she also gained valuable journalistic experience as food editor of Die Burger and Femina.
She currently writes for Fresh Living. She was rewarded with both the Mondi and Galliova awards for excellence in journalism. Book through Speakers Inc
Ina had her own regular TV cookery slot on Good Morning South Africa and has written 8 cookery books.
Initially, only as a sideline and to keep the cookery school staff occupied during school holidays, she formulated a small range of gourmet dressings, sauces and seasonings.
The fortunes of the sauce business took a dramatic turn when the Paarman's youngest son, Graham, joined the business in 1990.
He aggressively expanded the product range, manufacturing facility and selling infrastructure.
Thanks to these efforts Ina Paarman has become a household name and one of the few living brand names in South Africa.
Ina will always be a teacher at heart and she and her team take great pride in the credible culinary information they provide .
Teaching videos, menus and thoroughly tested recipes as well as a monthly newsletter. This is her way to provide knowledge to make cooking easy, enjoyable and healthy. Follow Speakers Inc on Twitter
Ina's food flair and understanding of the consumer coupled with Graham's drive, work ethic and business acumen have given birth to a great South African family partnership.
From humble beginnings in a converted garage in Cape Town, Paarman Foods have grown to the well-respected food company it is today. We invite you to step behind the scenes and discover some of the reasons for our success.
"I can't think of any other business unit that works as well as a tightly knit family group. Before you even start, you know each other's strengths and weaknesses.
Integrity and trust are an added bonus. There is something very wholesome about a well-functioning family business."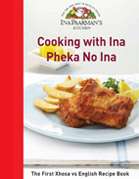 Cooking with Ina / Pheka no Ina
The first Xhosa vs English Recipe Book
An easy guide to make communication between people from different language groups crystal clear. It also serves to empower the home cook and give training in cooking skills. Enjoy the delicious results at the dinner table!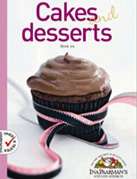 Start baking with the help of our cake mixes and this little book, you can't go wrong: from muffins for breakfast, crispy biscuits for tea and cupcakes for all occasions, to kiddies' party treats, cake sale stunners and special occasion treats. Become known for your delicious Christmas cake and don't be daunted, even by a wedding cake!