Jacques de Villiers – philosopher, mystic and author helps individuals, teams and organisations develop a culture of courtesy so that they can triumph.
Jacques's discourses, workshops and writing are aimed at helping individuals, teams and organisations move from an ambience of resentment, selfishness and victimhood to an ambience of gratitude, selflessness and mastery.
Courtesy is an eloquent currency to help the individual, teams and organisations achieve their goals. Jacques de Villiers – philosopher is now available to book through Speakers Inc
Jacques has been presenting his philosophies for more than 20 years both locally and internationally and is eminently suited to help organisations turn courtesy into a syntax for success:
He's a student of Stoicism, Sufi mysticism, ancient military culture and the philosophies of Carlos Castaneda. The esoteric and arcane knowledge he has amassed from these philosophies have real-word and practical applications to help the 21st century individual, team and organisation, triumph!


He has ghostwritten eight books and four for his own account, including his newest, What If Hollywood Doesn't Call? A Fractured Monk's Guide To Enlightenment.


He's the author of a number of substantive texts, processes, workshops and discourses including, The Warrior Code, The Architecture of Selling, Marketing with Meaning and The Courtesy Culture.
When he's not speaking, training or writing, you'll find him playing chess, playing Scrabble and catching bass.
Jacques lives in Johannesburg and is the father to a teenage daughter.
What If Hollywood Doesn't Call? A Fractured Monk's Guide To Enlightenment
Philosopher, mystic and author, Jacques de Villiers released his latest book in September 2019: What If Hollywood Doesn't Call? A Fractured Monk's Guide To Enlightenment.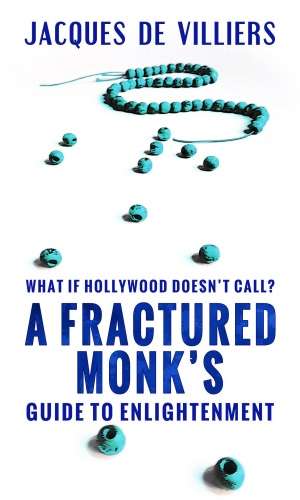 Jacques is a commentator, and the book is a collection of insights over a number of years. It's a commentary with a difference, though. It's not a comment on the contemporary issues of the day as much as a reflection of who we are facing these issues.
The book is therefore as much an exploration of what goes inside the author as it is a comment on the world he sees. This perspective has produced a particularly instructive text. One in which the deep humanity of the author resonates with our own, and helps to produce a bond of compassion both with the author and the world he is commenting on.
The book comprises 117 vignettes and is an attempt at helping its readers discover how to lead lives of eloquence, courtesy and deliberateness so that they can find a path that makes them secure, powerful, fulfilled and happy, both personally and professionally.
What They Are Saying About The Book
Jacques is an artisan. He is a committed writer who has taken the 10000 hour rule seriously. He is therefore capable of producing very polished vignettes of insight which are both easy and pleasing to read. The ease of the read and the depth of the insight offered are synthesised into a very worthwhile text. Etsko Schuitema
Jacques book has had me gripped from the first page. I have been devouring it slowly so as to imbibe each pearl of wisdom. His writing is clearly thought out, descriptive and inspiring. My mind has gone to places long forgotten. I am so grateful to have the opportunity to dust off the cobwebs and think in fresh ways. Jacques is a master creative! Leigh Joy Mansel-Pleydell
Testimonials:
Speaking and Training
Jacques is the most intelligent and fun presenter. His drive to keep learning makes his teaching very relevant. Jacques is always current and the manner in which he imparts knowledge is unique. His style is both entertaining and deep. Adele Biani, Managing Director Front Foot Strategic Consulting
Jacques is an entertaining speaker with great human connection and in depth knowledge that helps the audience make decisions and make clear decisions. I highly recommend Jacques. Richard Riche, One Clear Message
A while ago, I was given the opportunity to attend a sales training workshop by Jacques, and was pleasantly surprised – he's a compelling (and hilarious) speaker, an expert in his field, with a quirky, relatable personality. He exceeds expectations, does business with integrity, and genuinely just a pleasure to engage with. I have utmost respect for Jacques, and would recommend him in a heartbeat. Kirsty Coetzee, Tinswalo Lodges
Jacques, your presentation was a smashing success. The delegates responded enthusiastically to your wit, humour and valuable insights. They voted you the top speaker for the day. Beulah van Rensburg, Media 24
Your energetic body language was magical! You totally lived up to the challenge to create team spirit at our conference opening by allowing us to 'dress you up' in our Huizemark brand muscles and Mexican bandana – you did not only interact with the team, but became part of us and managed to make each person feel special. What we appreciated most was your willingness to research real estate sales to enable you to use the correct terminology and make your presentation relevant to our industry.It is months later now and many agents still refer to your session as the highlight of the conference. You certainly have made lifelong fans at Huizemark! Thank you, Jacques! Adrie Barnard, Training Manager, Huizemark Franchising Group
Writing Testimonials
As always your writing is insightful and thought provoking. Thank you for having the courage to engage readers in your personal journey, brilliantly reflecting our own hopes and fears. Thank you for sharing. Juanita Erasmus
Wow, the power of painfully honest thinking put into words Jacques. This puts a balance to positive platitudes. You have done a great service to me and many others for such deep honesty and bare self-disclosure. Thank you. Congruent! The late Bill Gibson
Besides likes and hearts and emoji faces, if there were a symbol for resonate I'd have tapped it a few times!!! Here's to being the magnificence that is ours to claim! :). Toni Blumeris
Follow Speakers Inc on Twitter