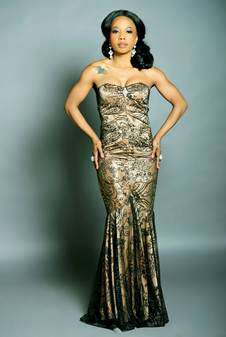 Kelly Khumalo – Conference Entertainer was discovered at the tender age of 21, whilst entering a Gospel Star search. With a life long history of singing in church, Kelly realized that there was a bigger world outside.
She only made it as far as second runner up, which did not prevent the offer of a lucrative record deal in 2004. It has been ten years since her first debut.
Kelly is a household name, a SAMA nominee and a super mom to her 3 year old now available to book through Speakers Inc
"It's not easy being a mom and a full time performer but somebody's gotta do it, it's really effortless for me cause I love both"
Kelly's home language is isiZulu, having grown up in the rural outskirts of Nquthu in KZN. Born in Katlehong, Kelly and her family moved to KZN during the riots. She returned to Gauteng in 1997.
She grew up with the influences of Beyonce, Whitney Houston and Maria Carey who all inspired her to pursue her passion. She formed her own girl group in school, taking the stage at every assembly when possible!
Kelly's albums:
1. Her debut album, "TKO" was released in August 2005, with the hit song "Qinisela" amongst its tracks. This album was nominated twice at the South African Music Awards (SAMA).
2. Her second album, "Itshitshi" was released towards the end of 2006. Another album to be nominated at the SAMA's, along with her third album, "Lobola".
3. "Simply Kelly", her fourth album, showcased a more mature artist who was mastering her craft. This album featured American songstress Syleena Johnson. Her fourth album to be nominated at the SAMA's.
4. Kelly has recently released her fifth album, "The Past, The Present, The Future" in November 2012 with producer, RJ Benjamin on board.
Kelly's TV career:
Kelly first appeared on a youth drama, Mthnzini.com on SABC 1 – this opened the doors to her acting career and led her to her defining role as Sunay on the popular soapie, "Rhythm City". She took a break to become a full time mom to her 3 year old. She returned to the show in June 2012.
Kelly was also selected by ETV to film her own reality show, "Rolling with Kelly Khumalo", capturing the behind-the-scenes of Kelly's personal life. The aim is to guide her fans through her daily profession. The show aired in September 2012.
Kelly Khumalo – Conference Entertainer has starred in the Mzanzi Stories film, "Spy Who Stole My Love" and she is due to be seen in upcoming "USkroef No Sexy" which will be released in June 2013 (co-starring alongside Neo Matsunyane).
Kelly's biography, "The Kelly Khumalo Story" was written by author and journalist, Melinda Ferguson with Kelly's previous manager, Sarah Setlaelo as the contributing writer.
Kelly's biography is available in stores. Follow Speakers Inc on Twitter
ASINE