Kingsley Holgate – Explorer Storyteller "I feel blessed to be born under African skies and with my family and team of fellow adventurers to be privileged to live the life of a modern day adventurers and with your support to be able to continue to use these adventures to improve and save lives.
Good luck and thanks for all the support
Life is a great Adventure.
Siyabonga, Asante Sana."
Kingsley Holgate – Explorer Storyteller
Kingsley Holgate-Explorer Storyteller is considered Africa`s most colourful modern day explorer. A humanitarian adventurer, author, TV Personality and fellow of the Royal Geographical Society.
Getaway Magazine calls him their Explorer in Residence, the most traveled man in Africa.  To book Kingsley, contact Speakers Inc
His family adventures, many of which are world firsts, have included:
A Cape Town to Cairo crossing of Africa in open boats, the Zambezi and Congo Rivers, and a circumnavigation of Lake Turkana, the world's largest desert lake.
He has sailed the Makgadikgadi Salt Pans in land yachts. In another expedition called 'Extreme Latitude' they travelled on foot, by bicycle, bullock cart, dugout canoe and Land Rover circumnavigating the globe by land following the Tropic of Capricorn.
Their year long "African Rainbow" expedition to the Somali border and back in an Arab sailing dhow allowed them to distribute tens of thousands of mosquito nets to pregnant mothers and to children under the age of five in a campaign called "One Net One Life".
Kingsley Holgate – Explorer, Storyteller
Using adventure to improve lives, "The Outside Edge", a 449 day 33 country geographic and humanitarian expedition to track the outline of Africa has been hailed as the most successful expedition ever undertaken in support of Malaria Prevention.  Follow Kingsley on Twitter
Other expeditions have included a number of journeys in the footsteps of the famous Victorian Explorers. Men like Livingstone, Stanley, Count Teleki and Chuma & Susi, the two black unsung heroes of exploration who, after having buried Livingstone's heart in a biscuit tin, carried his salt dried corpse all the way from Lake Bangweulu to Bagamoyo opposite Zanzibar.
These Kingsley Holgate journeys are included in a book titled "Africa – In the Footsteps of the Great Explorers" in which he and his family team have survived countless attacks of Malaria, the threat of bandits, wild animals and the danger of unexploded landmines.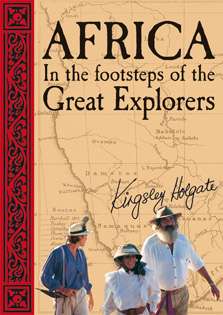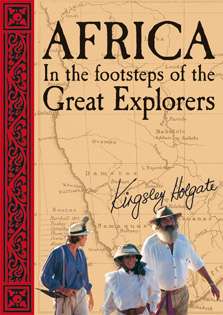 Carla Geyser has written an article for Plascon Trends about Kingsley Holgate's efforts to raise awareness about rhino poaching in KwaZulu-Natal.
Holgate, who is the author of Africa: In the Footsteps of the Great Explorers, went on a tour of the area with the highest concentration of wild rhino in the world.
His adventures are always paired with humanitarian efforts. This time, he joined with Project Rhino KZN to conduct a comprehensive children's education survey.
The survey was linked with rhino poaching awareness, and gave children an opportunity to voice their feelings about the rhino crisis.
Kingsley Holgate – Explorer Storyteller
Kingsley Holgate, modern-day explorer, humanitarian, author and founder of Rhino Art is truly appalled by the crisis that is facing us here in Africa because of poaching.
In 2013 he joined forces with Project Rhino KZN, and led the 'Izintaba Zobombo expedition' that traveled through a rectangle encompassing the Lubombo Range of Mountains, including the Kruger National Park and its nearby private reserves, across its fence line to the Rhino War Zone along the border with Mozambique.