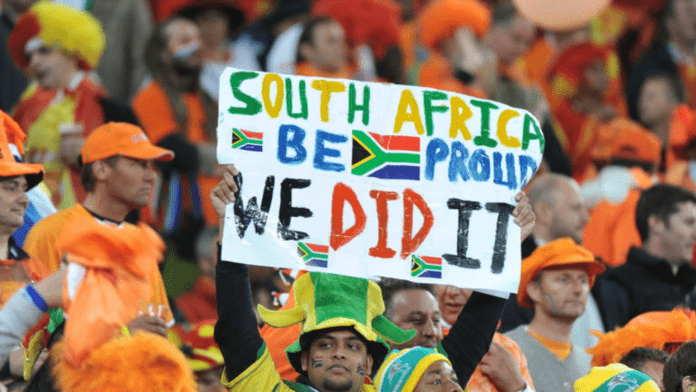 'Let's Pull Together': Effective Teamwork and the Hosting of the 2010 FIFA World Cup in South Africa
In 2010, South Africa became the first country on the African continent to host the FIFA World Cup. Crucially the hosting of such a prestigious tournament was seen as a chance to prove that this developing nation could host an event of this magnitude as efficiently as the developed economies who had hosted the previous editions of the event, such as Germany in 2006 and Korea and Japan in 2002. What was required, perhaps more than anything else, was effective teamwork from both the organisers and the different stakeholders in order to achieve their goal of hosting a successful and ground-breaking tournament.
Helen Keller once said that "alone we can do so little, together we can do so much." This was precisely the case in 2010 when different agencies and organisations worked together as an effective team in order to make sure that one of the world's largest sporting events was a success here in South Africa. This 'festival of football' which attracted billions of viewers worldwide as well as hundreds of thousands of visitors to our shores took place from 11 June to 11 July 2010. It was a tournament that carried with it huge expectations – both within South Africa and abroad. Significantly, heightened media attention in the lead up to the tournament had focused on many negative aspects such as economic inflation, crime, xenophobia and racism, thus casting doubt over South Africa's ability to successfully and safely host the event. The 2010 FIFA World Cup, therefore, presented a platform for South Africa and host cities such as Cape Town to prove their capabilities while being showcased to the largest global television audience for any single-sport event ever.
Dr Dean Allen was part of the research team tasked to investigate the legacy of the 2010 FIFA World Cup for both Cape Town and South Africa as a whole. One of the most apparent things was the incredible teamwork that went in to ensuring its success, despite considerable challenges. ''The World Cup was indicative of what we can do in this country" declared the 2010 Coordinator from the Department of the Premier, Western Cape Provincial Government. Furthermore, "this event has given the officials of Cape Town the confidence to do anything" a stakeholder from the Organising Committee announced. By effectively working together, knowledge and human capacity building were seen as important legacies for the nation, especially in terms of hosting future events of this nature. Indeed, as 2010 proved, teamwork is just as important in planning, management and implementation as it is on the field of play.
View Dr Dean Allen's full profile HERE or follow Speakers Inc on Twitter