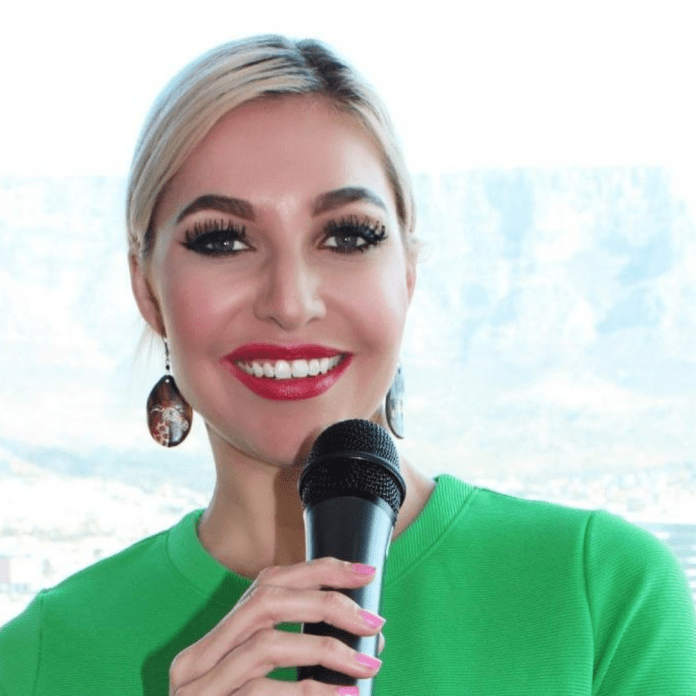 Liezel van der Westhuizen is also a sought after MC and has been the Programme Director at more than 200 events for top clients
"Commitment. Passion. Action."
She may be have been the new face for Season 5 of MNET Idols and only the second woman in the world to present Idols, but Liezel van der Westhuizen has only been working in the home-grown entertainment industry for just over 4 years and been on Speakers Inc books for over 6 years
Starting out on TV as an SABC 3 continuity presenter as well as the presenter of SABC 3's live lunchtime talk show – Lunchbox.
Liezel now presents SABC 3's new daily breakfast show –EXPRESSO and The Sunday Sundowner on 94.5KFM- live from Cape Town.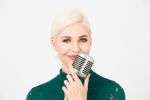 KEYNOTE:
Liezel van der Westhuizen and blind fellow cyclist, Cindy became the first South African all female blind and sighted pair to tandem cycle from Manali to Khardung La India, 18,330 feet covering 550km. Liezel speaks on key principles are resulted in the success of her mission that can be valuable to businesses.
ABOUT THE KEYNOTE TALK:
How many times have you given up on a personal goal or dream simply because it seemed unattainable? And how many times have you worked up the courage to pursue that goal or dream only to be told by others that it is, indeed, completely crazy? Well perhaps it's time to attempt a different approach and consider a fresh start! In this talk, Liezel van der Westhuizen shares how her personal experiences has helped others conquer their self-saboteur in the fearless pursuit of those seemingly impossible goals.
In today's business climate, the market has become more complex and fuelled with many uncertainties. Every leader feels the pressure of generating results, building the most productive teams and creating a high performance working environment to secure sustainable outcomes. Although challenges and obstacles along the way are inevitable, having contingency plans and applying relevant methodologies in dealing with these problems will ensure the business gets back on track.
Liezel van der Westhuizen together with blind fellow cyclist, Cindy Jacobsz, became the first South African all female blind and sighted pair to tandem cycle from Manali to Khardung La India, 18,330 feet covering 550km. During this gruesome mission to the Himalayas, the pair battled multiple obstacles after the other. From strong winds, rain, sleet and sub-zero temperatures, to Cindy contracting an eye infection and the tandem's left crank breaking which meant they had to walk a far distance before they had access to technical assistance… all whilst conquering the daunting challenge of cycling long distance on some of the highest roads in the world. But despite this, Liezel van der Westhuizen had to be physically and mentally prepared to complete the mission and ultimately raise funds for two medical charities.
In this keynote talk, Liezel van der Westhuizen shares how she conquered some of her most challenging adventures using three core values: planning, perseverance and patience. This keynote is not only for keen adventure-seekers, but more so about effective principles that can be applied in any organisation to significantly improve structures and successfully achieve desired goals.
"Set your goals and work at it, each and every day. Don't stop until it's done."
KEYNOTE TOPIC: Personal Branding
KEYNOTE SPEAKER: Liezel van der Westhuizen
KEY INSIGHTS:
How can having a compelling personal brand help you and your business?
Why a business should invest in their staff's personal brands
How to Stand Up and Stand Out in your Niche – How to think about and leverage your digital footprint across LinkedIn, Twitter, Facebook and other social media channels.
What are the key factors to avoid with personal branding?
ABOUT THE KEYNOTE TOPIC:
One of the most important characteristics of being in a business today is the ability to market your own brand. Essentially, if a business is able to promote itself, it has already won half the battle of building valuable relationships with current clients and convincing potential clients that your business is worth investing in. But most importantly, how individuals in the business market themselves is truly where the magic lies. Personal Branding is the process by which we market ourselves as individuals to others.
We all know that, as Entrepreneurs, we need to wear many hats. We're often accountable for a wide range of responsibilities, from marketing and business development to accounting and inventory control. But in order to be a successful leader in your business, you have to adopt a strong leadership style that speaks to the needs and culture of the organisation.
Embodying a keen awareness of what you are doing, why you are doing it, and the impact of that work is fundamental to the success of the business. Leaders who actively define their brand identity are able to effectively manage career progressions, proactively work alongside their employees, and maximize opportunities that align with their mission.
Many companies shy away from giving their staff the liberty to build their own individual brands. Why should anyone follow what you do or say? If your answer is just "Because I said so," you are a Manager and not a Leader. People should follow you because they believe in your mission. To be a well-rounded leader, you need to share that mission clearly, concisely and in a way that inspires people to work towards similar goals. Therefore, when employees are empowered to aspire to similar goals and build key industry networks, the organisation's success will attest to the fact that employees are performing at an optimum level.
In this keynote, I do the following:
Equip Entrepreneurs with the necessary skills to manage their personal brand for strategic awareness,
Share various reputational management insights on building a profile on how you want your brand to be perceived,
Advise on how to create a strong brand identity with clarity about who you are and what you are not.
SHAPING A SUCCESSFUL BUSINESS THROUGH PERSONAL BRANDING
CORPORATE TRAINING TOPIC: Personal Branding
KEY INSIGHTS:
Why Invest in your Personal Branding:
Helping employees build their own professional profile empowers them to work at an optimum level of productivity,
The success of a company is in its reputation and ability to brand itself as the best possible option to potential clients,
Your personal brand should be a selling point to new clients, potential employers, and even future employees.
Employees are an invaluable resource to any business and their level of productivity distinguishes a good business from a great one. To start maximizing your team's performance level, a business must invest in their staff's individual brands through career development and personal branding techniques. When leaders know the individual strengths of their employees, they are able to task staff with work that plays into their strengths and skills. This not only saves time and money, but you also create a culture where people are always performing at their best.
Leaders often miss the mark when it comes to succinctly identifying who they are, what they stand for and how they help people and businesses grow. If a potential client does an online search for a company or an individual, the information they find acts as the backbone of a personal brand. Depending on your role, your personal image will also reflect on the company's reputation. After all, the individuals in the organisation are the window into what the company values are.
Liezel has established a training programme titled "STANDING OUT" that aims to empower people with valuable skills on how to build a strong personal brand for both the company and its employees. If a quick online search of an organisation or individual shows results of well-written and insightful blogs, spunky social media accounts or intrepid professional networking pages; a potential client's curiosity may be piqued.
This programme equips professionals primarily in customer/client-facing roles to establish authority and develop trust from clients. LLiezel van der Westhuizen, therefore, helps you master some of the tenets of personal branding online and offline and provides you with key insights on how to achieve greater impact. The workshops are designed specifically as per the client's requirements for both online (social media, websites, SEO strategies) and offline reputation management. The workshops can run as half-day or full-day programmes.
It's no surprise that Liezel is so at ease when talking to an audience: this Pretoria raised-girl has a Masters Degree in Communication Management from the University of Pretoria and, since 2000, has been a member of Toastmasters International, having received her Advanced Toastmaster Bronze certificate in 2005.
Liezel also holds a Degree in Human Resources Management and an Honours Degree in Communication Management; both from the University of Pretoria.
"I've always loved speaking in public and conveying my point of view to a broad audience," Liezel says of her Toastmaster experience.
In fact so committed is she to the benefits of this form of communication that last year she taught public speaking and communication at Abraham Kriel Children's Home as a volunteer.
"I'm passionate about young South Africans being able to stand up and speak, confidently and with knowledge, about the issues that move them," Liezel says simply.
And in addition to her Toastmasters experience, Liezel is a recognised voiceover artist, having done an array of television and radio voiceover work.
Liezel is the station voice not only for KFM but also for Gold Reef City Radio; Airports Radio and Carnival City Radio.
Liezel van der Westhuizen is so focused on her own passions is entirely consistent with her personality: after all, this is a woman who, as a learner at Pretoria Girls never once missed a day of school, in her entire 12 years spent in the education system!
In fact, Liezel is no slouch when it comes to the other pursuits that she can't live without: sport and health.
Liezel trains six days a week and follow a very healthy lifestyle. In 2009, Liezel was selected for the NESTLE ELITE TRIATHLON TEAM which saw her competing with some of SA's top Triathletes.
It's a head-spinning array of physical passions that, when combined with Liezel's model-looks make it easy to see why she was a Top 8 finalist in the 2007 Shape magazine Sanex Cover Girl competition.
In 2009 Liezel was once again recognised as one of FHM's HOT 100 sexiest Women in the World, and was Nominated for Olay SA Iconic Woman Award for Media Personality; Liezel was also voted Number 90 in Heat Hot 100
But, for Liezel van der Westhuizen what drives her to push on each day are new challenges and over the years she's earned a reputation as an MC of note.
That said, with her heavyweight media background, keen intelligence, easy manner with audiences and cover-girl looks, it's surely not going to be long before Liezel becomes a household name.
2011 – Voted as one of Cosmopolitans Twitter Queen's
2011 – Nominated for G-Sport Style award
2011 – Nominated for Best Dressed at L'Ormarins Queen's Plate 2011
2010 – Voted Number 18 in FHM 100 Sexiest Women in the World
2010 – Voted Number 62 in HEAT HOT 100
2010- Completed THE IRONMAN(3.8km swim;180km cycle and 42.2km run)
2009- Voted Number 63 in FHM 100 Sexiest Women in the World
TESTIMONIALS
• I would just like to thank you so so much for MC'ing our Mercedes event yesterday. You were FANTASTIC, and I have been receiving rave comments from early morning. – Beverley Horrell (Rola Motor Marketing Manager)
• Always great working with Liezel, thank you for your empowering talk – Riaan Kleinsmith (Makro)
• Please can you personally pass on my personal gratitude to Liezel, who was the consummate professional and by far one of the best MC's I have worked with ever. Liezel certainly took the event to another level!!!! from Sean & the Rainbow Team
• Working with you was one of my favourite things of the job – Caron Isaacs (Associated Media)
• Please extend my thanks to Liezel. She was incredible and having a speaker of her calibre at our Awards added to the entire experience – ROBYN HEY(BWA)
• The event was a great success and Liezel was brilliant, as always! – Candice Burgess (Greater Than)
• Liezel did an amazing job -Jade Campbell(Top Events)
• Liezel was such a pleasure to work with, professional, articulate, inspiring. She really was great – Bianca Church (Century City Property Owners' Association)
• Liezel was awesome! She just knows our brand so well. We were exceptionally happy with the gig on Friday, and will be very keen to make use of Liezel's services again in future, when the need arises.She handled everything superbly – Fatima Borez (Cape Town Tourism)
---
Travels from: Cape Town
Speaking Fee: from R30,000 – R35,000
EMCEE Fee: from R25,000 – R45,000
Contact Us at Speakers Inc and subscribe to our YouTube channel