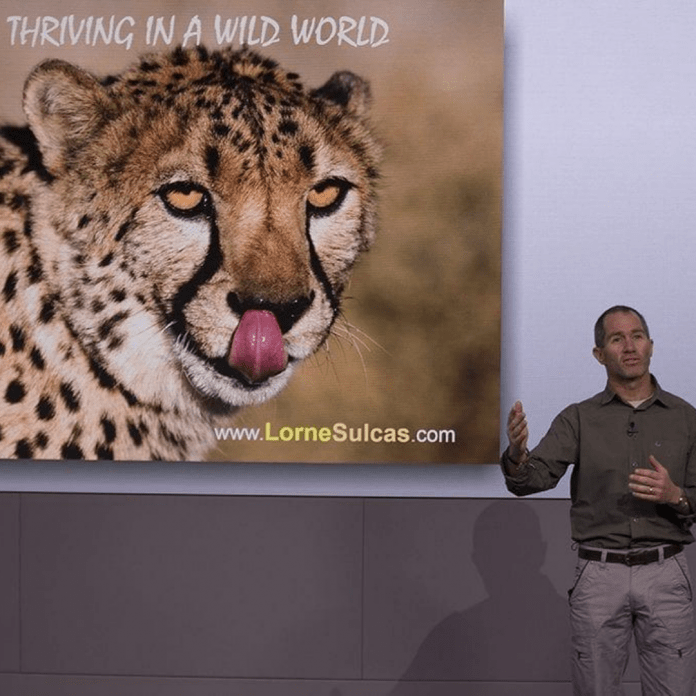 Lorne Sulcas – The Big Cat Guy is unorthodox. Definitely not your average motivational speaker.
He has spoken on the world's biggest stages. He appears on CNN. His clients include organizational giants on five continents, from NASA to Hershey's, Tesco to Rolls Royce.
Since 1996, Top International Motivational Keynote Speaker Lorne Sulcas has been 'WOW'ing' and transforming top teams and organizations around the world with his unique Thriving in a Wild World™ presentations: time-tested success secrets from the most successful survivors on the planet – Africa's Big Cats.
His keynotes are one-of-a-kind. Unforgettable. Not anything your audience has seen before. Nor anything they'll ever see again.
And tailored to your bespoke context.
Your audience will get million year-old secrets of organisational and personal success:
How to sustain growth, high performance and exceptional results
How to thrive in the face of change and crisis
Teamwork that yields results no-one else achieves
Game-changing leadership, innovation, and vision
'Hunting new business' – even amidst chaos and uncertainty!
How to get and maintain competitive advantage
Because Lorne has the street cred.
After many years as a sought-after Leadership Trainer and Management Consultant, Lorne went from the corporate jungle to the real jungle.
Everyone thought he was crazy.
For nearly a decade, Lorne was a game ranger, tracking and photographing Africa's Big Cats on a daily basis.
Today,  Lorne Sulcas – The Big Cat Guy travels the world sharing potent life and organizational lessons from these super-predators that have been thriving for millennia in the face of change and competition.
His message moves people to act. His captivating stories and award-winning photos will pierce your audiences' hearts.
They will laugh. And his inspiration will stay with them forever.
He is an extraordinary expert; renowned professional; a 'cat'-alyst; trusted Motivational and Conference Keynote Speaker to CEO's and Event Planners. Around the planet.
Lorne is an expert in what it takes to survive, thrive and win, if you are looking for a:
Motivational Speaker
Business Speaker
Conference Keynote Speaker
Change Speaker
Sales Speaker
Leadership Speaker
Teamwork Speaker
Sports Motivational Speaker
Dinner, Breakfast, Lunch Speaker
or Leadership and Teambuilding Trainer
Because there's no excuse for mediocre.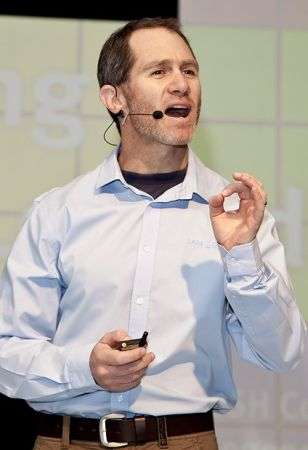 Read some of Lorne's articles: What makes a Winning Team or … Corporate Motivational Speakers
Most Popular Keynotes
Having an opening or closing Keynote Speaker who 'bombs' is probably an event planner's absolute worst nightmare. You're looking for a high-energy, high content speaker who will set the critical tone in opening your conference or leave your audience excited and ready to grow after closing it. Your speaker's message has to inspire. It has to be relevant. It has to stick. You cannot afford to have a speaker who is forgotten straight after walking off the stage.
Audiences don't forget Lorne Sulcas – The Big Cat Guy.  Or his message.  Lorne tailors his content to your context. His is not a speech.  It's an experience.
Thriving in a Wild World™
A trusted motivational keynote speaker who gets results
Lorne Sulcas is an international motivational keynote speaker who speaks at meetings and events all over the world, from small- to medium-sized businesses to organizational giants like NASA and The World Bank.  Lorne has established his trusted reputation on referrals.
He has spoken to organizations on five continents. And he gets called back. Across the globe. He has worked with employees and executives of organizations from Sony to AT&T to Rolls Royce.
He has been featured on CNN. He is an internationally award-winning wildlife photographer.
Lorne is not your average motivational keynote speaker. He knows what it takes to thrive in the face of massive change, challenges, and competition. Because he has years of real-world experience…
In the corporate 'jungle' as a leadership trainer, and in the real jungle as a game ranger, tracking and photographing Africa's Big Cats for almost a decade.
Today The Big Cat Guy delivers motivational talks all over the planet on the potent leadership and teamwork success secrets from these awesome and eternally successful super-predators that we can apply to thrive in the face of the change, challenges and competition we all face every day.
Relevant to your audience
Motivational keynote speaker Lorne Sulcas partners with teams, employees and executives around the planet on leadership, teamwork, and sustaining competitive advantage in the face of competition, change, and challenges.
If you're having a conference, 'in-house' event or retreat, Lorne's game-changing sessions are designed to
help your team triumph in the face of competition,
your leadership navigate change,
or your sales force to 'hunt' new business.
And each keynote is different. Because every event and every organization is different. Lorne will customize his content to address your specific organizational context and to meet the needs of your event.
Your organizational challenges Lorne will impact
Since 1996, Motivational keynote speaker, Lorne Sulcas, has been helping top teams and organizations around the planet move the needle through age-old proven success secrets:
Sustaining growth and exceptional results
Truly exceptional teamwork
Thriving in the face of change and competition
Potent leadership, innovation, and opportunity
Getting and maintaining competitive advantage
Why a unique message is so important for your audience
The Big Cat Guy's keynote presentations are on Thriving in a Wild World™ – they are not something you've ever seen before. Nor that you will ever see again!
A unique message stands out and is remembered. Great speakers use stories to entertain, educate and inspire.
Through stories and case studies audience members learn –and retain- easily and effortlessly. Lessons are recalled with ease.
The more unique and entertaining a story is, the easier it stands out and the easier it is recalled. In Lorne's keynotes, he shares thrilling, captivating stories and lessons from his own personal experiences in the 'jungle' that will keep your audience on the edge of their seats, and that they will remember forever.
Lorne's message is uniquely simple and relatable. Everyone loves and relates to animals. And because they relate to the message, they retain the message. And that's what makes Lorne's presentation so powerful: it's unique, simple, but unforgettable.
The Big Cat Guy's presentations are one-of-a-kind. His message moves people to act.
He's an extraordinary expert; renowned professional; a 'cat'-alyst; trusted motivational and conference keynote Speaker to CEO's and Event Planners. Around the planet.
FOR SMALLER EVENTS, RETREATS OR STRATEGIC PLANNING MEETINGS Lorne Sulcas – Wildlife Leadership offers an option of an approximately 3-hour training comprised of my Thriving in a Wild World™ keynote presentation immediately followed by a facilitated working session to further harness, apply and implement the key lessons from the keynote, to the specific context and focus of the client organisation.
"I was blown away by Lorne when I saw him speak. He has humour, real stories and a superb message in his presentation. His expert knowledge and how he shares this is amazing. I am thankful to him for the chance that I had to hear him talk. Lorne is unique and I really feel that he would please any audience. His was and still is one of the most talked about presentations we've seen."
Matthew Newnham, Business Development Manager. ASTRAIA Technology, South Africa
"Your presentation was brilliant Lorne. In my job, I hear a lot of motivational speakers and much of it is a rehash of other presentations or literature. This was different … Pure, base animal behaviour, captured through tireless, detailed observation and then expertly translated into our world of human beings in the workplace. An intellectual triumph."
Mark Sudabby, Grocery Director, TESCO Stores, UK
""… I was struck by your powerful message that can benefit all of us in today's world of chaos and change. We immediately implemented your lessons around teamwork and change and are already noticing a huge difference. Thank you, Lorne. You were remarkable. Goosebumps stuff!"
Carol Halling, Organizational Effectiveness Manager, AT&T, USA
""Lorne, I really want to take this opportunity to thank you for your brilliant keynote on Lessons from Africa's Big Cats at our Q1 Awards Meeting. It was exactly what we needed. And it wasn't just an outstanding speech. At a challenging time for our business, the powerful lessons that you shared about leadership, dealing with change, and being an exceptional team, really hit home with our people. Everyone keeps talking about being like the leopard, cheetah and lions. Your talk has made a huge impact on our culture and our organisation. I would firmly recommend your keynote speech to any team that is facing challenges and requires inspiration for dealing with change and its impact on leadership in these trying times."
Murray Price, Managing Director, Eqstra Fleet Management, South Africa
"Thank you Lorne. You did such a fantastic job in your talk yesterday, integrating the corporate world environment with that of nature and those majestic cats. Your discussion around adapting, enduring, creating opportunities and teamwork in a tough environment was beautifully demonstrated and you really held our attention with your amazing stories. Your presentation and photography were superb – and it was so refreshing to have such a vibrant visual and well delivered presentation. You really told a story that was highly enjoyable with a lasting message."
Wendy Dias, Market Development & Product Manager, Synchron Markings, South Africa.
"You have something rich and powerful in your Bushveld Lessons. Thank you Lorne Sulcas – The Big Cat Guy for your incredible Thriving in a Wild World presentation which you have expertly fit right in line with our conference. I know your unforgettable lessons will really help us for our important year ahead. The animal parables you used were a powerful reminder of key success and business principles and your amazing stories and photos were so apt. Your paralleling the animals in the African Bush to the corporate jungle is a provocative yet entertaining approach … absolutely unique and fascinating."
Isisara Bey, Senior Director, SONY Music, Corporate Affairs, USA.
---
Book Lorne through Speakers Inc