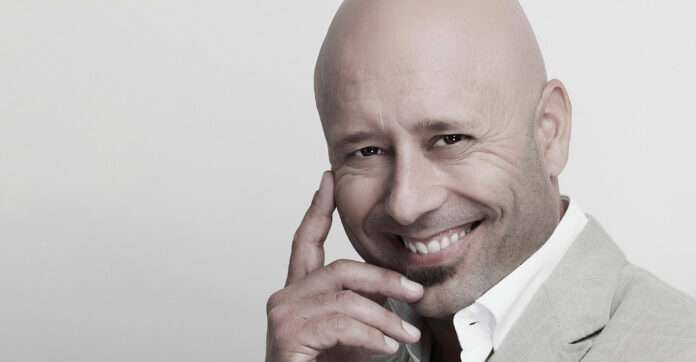 Mark Pilgrim with his distinctively "dome" look, charismatic personality and easy-going demeanour, popular radio DJ and TV presenter.
Mark Pilgrim has quickly become a favourite personality in South Africa's entertainment circles.
Perhaps best known as the host of three "Big Brother" reality TV shows, Mark has also appeared in numerous commercials, hosted the lifestyle show New Moves (on e-TV), presented the weekly Retail Therapy segment on M-Net, previewing the latest music releases, as well as Face 2 Face on SABC2.
His true passion though is radio, and the SA public are very familiar with Mark's voice as radio deejay.
After obtaining his B.com and working in market research for 10 years, he decided to follow his heart and joined 5FM back in 1995.
After 8 years (the last 5 of which was hosting the Weekend Breakfast Show), they parted ways and he now freelances for Johannesburg's 94.7 Highveld Stereo.
In addition, he is a regular DJ at clubs around the country, and was also co-owner of Nitefever, one of Johannesburg's top nightclubs.
He has also released 3 CD compilations in the last few years.
As a voice artist, Mark also spends a lot of his working day in post production studios, narrating numerous radio and TV commercials as well as the television show Car Torque on SABC 3.
Mark is a well polished master of ceremonies, corporate deejay, as well as motivational speaker. In addition, he is a professional voice artist, having narrated hundreds of radio and television commercials as well as audio visual presentations.
From 2013 to early 2016 he was also a magazine columnist for South Africa's Living and Loving magazine, writing a monthly column about parenting from a dad's perspective.
His autobiography titled Beyond the Baldness about never giving up, fighting back and chasing your dream was released at the end of 2015.
Mark is also back at university part-time, studying for his Masters in Business Administration (MBA).
Mark Pilgrim
Mark is a well polished MC, having hosted numerous corporate gala evenings over the years. He is also a motivational speaker, sharing his story of testicular cancer, how he overcame it and how it pushed him to follow his dreams.
He also lectures, presenting a Television course
Mark is a cancer survivor. At the age of 18 he was diagnosed with stage 3 testicular cancer, which spread to his lungs and kidneys.
He attributes his positive attitude towards life as being responsible for him still being alive over 30 years later!
Mark often shares his experiences with others so that they can be more aware of what cancer is about, as well as the signs to look out for.
He is also a friend of The Reach for a Dream Foundation and a patron of CANSA. Mark is well known as the bald head that leads the annual CANSA Shavathons.
​From the moment Mark went into remission he decided that he was going to chase his dream and get onto radio, so whilst he was a consumer researcher by day, by night he was a "demo tape" maker, sending countless demos to countless radio stations.
After having the door closed in his face for eight years, perseverance eventually paid off in 1995 when he managed to get his first radio show hosting weekend graveyard on 5FM.
After many years with 5FM, Mark moved onto 94.7 Highveld Stereo and 94.5 KFM, followed by Hot919. Television was a natural progression, and over the years Mark has hosted a total of 10 shows.
​
Mark is also a heart attack survivor.
He had a myocardial infarction in 2008. Whilst 10% of his heart no longer beats, he is still the poster child for positivity, energy and embracing life!
​
Mark was married for 13 years. He has 2 daughters.
​
His journey continues.
Contact Us at Speakers Inc and subscribe to our YouTube channel