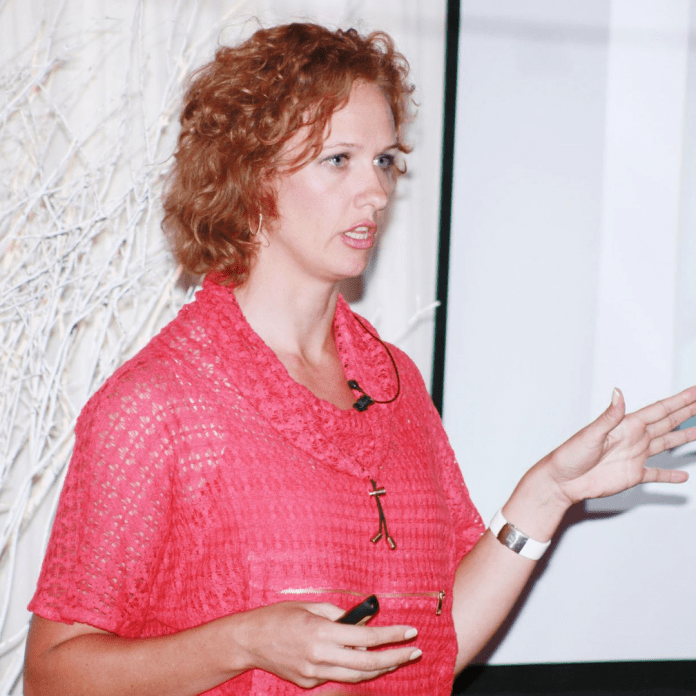 Marlette De Jager says don't let life, work and fears limit your potential – instead, get out there and make your goals happen! This is the message of inspirational speaker and performance coach, Marlette "Molly" De Jager. A mountaineer, endurance athlete and motivational speaker. Molly knows just what it takes to conquer fears, break limitations and overcome challenges – and she's here to help others to achieve extraordinary heights.
Molly was born at sea level, but has always had her head in the skies, her eyes set on the challenge of high altitude.
When a road trip in the year 2000 culminated in the country of Tanzania, she climbed Kilimanjaro in her jeans, and it sparked in her the desire to summit other peaks.
Molly's adventurous and tenacious spirit has taken her to some of the wildest and highest places on earth on foot or two wheels. She's trekked in Patagonia, caught Piranha in the Amazon, hiked the Inca Trail, dived the Barrier Reef, traversed the Via Ferrata in the Dolomites and completed some of SA's toughest mountain bike events.
Throughout it all, Molly has been challenged not only to reach more exciting and adventurous goals, but also to balance and prove herself in a male-dominated arena. That's why she doesn't just simply talk about how to climb a mountain – she's focussed on using the principles of extreme climbing and sports to create a strategy that works to achieve your very own goals and dreams.
Whether she's keynote speaker at a large corporate event or tackling the next set of cliffs, she delivers thoughtful, inspirational insight that reveals how we can all push our limits and achieve more than we even thought possible.
Corporate and motivational speaking inspired by adventure
Whether you want to bring your team together, overcome your own limiting beliefs or bring out your full potential at work and at home, Molly can help you achieve it. With entertaining, meaningful stories of her adventurous life, she's able to effectively communicate vital strategies and lessons to enhance the way you live your life and the way your company does business.
From corporate speaking appointments, workshops and keynote addresses to inspirational talks and teambuilding, you're guaranteed a memorable, entertaining and inspiring experience with the charismatic and driven Molly.
As a professional speaker devoted to inspiring others, Marlette De Jager uses her life of adventure to help other people achieve their dreams. A seasoned professional speaker who knows what it takes to reach even the most extreme challenges and dreams, she's developed practical, effective strategies that show you the path to realising your own goals.
Using experiences from climbing as a metaphor for life and its uphill struggles, Molly inspires audiences with lessons learnt from her high altitude adventures. Her sincere talk will leave you feeling like you were climbing beside her, whether it was in a pair of jeans on Kilimanjaro or in hi-tech gear on Denali.
Speaking from the heart, Molly moves audiences to relate to the highs and lows of climbing mountains and life in between, her STEPS to Summit strategy imparting you with a practical tool to apply to your life. Corporate clients will benefit extensively from both her customer service and crisis management talks that bring a sense of humour and excitement along with practical, proven insight.
Marlette De Jager has been speaking since 2014 after climbing 4 of the 7 summits and before taking on the ultimate challenge of the climbing Everest.
Choose a professional speaker who is knowledgeable, practical and passionate
You're NOT going to learn to climb a mountain, but you WILL:
Be inspired to achieve your goals and dreams
Get the highs out of life, and learn how to deal with the lows
Overcome fears and limiting beliefs
Achieve the extraordinary
Face challenges with resilience
Live at your peak
Molly is available for speaking at the following events:
Corporate events
Keynote speaking
Motivational speaking events
Teambuilding sessions
Workshops
Private events
Seminars
Conferences
Companies or groups that have been inspired:
CAVI brands
Metskill
Woman@work
The Sunflower Fund
Prestige Financial Managers
Katmedical
KlipSA
Simbithi Country Club
Stefanutti Stocks
Brenner Brands
DPI Plastics
Kim Coach
Telesure
Topics Covered
You're NOT going to learn to climb a mountain, but you WILL:
Be inspired to achieve your goals and dreams
Get the highs out of life, and learn how to deal with the lows
Overcome fears and limiting beliefs
Achieve the extraordinary
Face challenges with resilience
Live at your peak


Contact Us at Speakers Inc and follow on Twitter