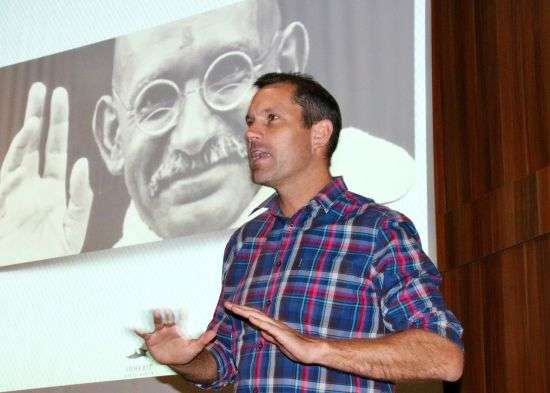 Michael Charton – Motivational Speaker his enthusiasm for the story of South Africa and his curiosity and passion for the peoples of our country has gradually lured him away from his corporate career.
Having qualified as a chartered accountant and spent time in a financial advisory role in the United States, Michael returned to Cape Town in 2007 where, during a short career in advertising, he was awoken to the art and power of storytelling. Book through Speakers Inc
But in 2010, following an unorthodox project for an advertising client, Michael began telling stories. In 2011 Michael then stumbled upon the untold story of the 1937 Springbok rugby team: a group of men who lived in a fascinating time and whose legacy holds far more gravitas than which can be retained in a set of chalk lines.
This story proved to be a success and he has told the story to audiences around the country to overwhelmingly positive reviews. By 2015, Michael had developed and told a number of original, non-fiction stories all of which drew inspiration from South Africa's unique history. An interest which, having qualified as an accountant, Michael had then studied through UNISA.
With these foundations laid, Michael Charton – Motivational Speaker made the decision to embark on his most ambitious project to date. To write and tell a story which, while remaining true to the art of storytelling, manages to unearth the key dynamics of South African history in a manner which appeals to the heart.
This story would prove to be a monumental challenge, which saw Michael Charton resign his role as a financial director and ply 18 months of his life researching and developing.
The result was acclaimed story, MY FATHER'S COAT. A story which has found considerable acclaim and set Michael up to expand his project into a company called INHERIT SOUTH AFRICA, which aims, through a number of projects, to make South African history more accessible to both our people and visitors.
PRESENTATIONS:
MY FATHER'S COAT – Five Men and the Great Story of South Africa
MY FATHER'S COAT is the realisation of Michael Charton's decade-long ambition to make the incredible story, that is South African history, more accessible to our people. To open the hearts of South Africans to our past, so that we may use our remarkable story no longer as a tool to inspire hatred and fear and division, but rather as a source of unity and healing.
Accordingly, Michael's idea was to condense the epic narrative of South Africa into a bite-size story which is both compelling and balanced. A project which would prove to be a colossal, time-consuming challenge, but one which has ultimately given rise to a very unique product, providing order and meaning to a notoriously complex subject.
But importantly, this is no history lecture. Instead, this is just a story. A human story, told by climbing into the boots of five prominent and directly interlinked protagonists spanning 200 turbulent years: Mzilikazi, Kruger, Rhodes, Smuts and Mandela.
So, while historians actively try to eliminate the biases so prevalent in our story; Michael embraces them. And as Michael Charton introduces you to each of his five characters, he allows them to lure you under their spell by subtly endorsing their beliefs and biases.
But, with the introduction of each subsequent character, new insights are carefully leaked into the narrative, undermining previous biases and providing a new depth of understanding; until a layered and more balanced view of our complex past is gradually revealed.
Further, and because the lives of these characters overlapped, Michael Charton – Motivational Speaker finds unique opportunities to tell the same pivotal moments in the story through more than one set of eyes; so providing a powerful reminder of our heavy biases as well as the absurdity of some of our historic attitudes. Those attitudes ultimately responsible for South Africa's catastrophic 20th century.
This was a project Michael believed in so strongly that he gave up his life as a chartered accountant in order to pursue it. This passion shines through in his delivery. Indeed, this is a unique life experience: An opportunity to reflect on our unique past and to celebrate the fascinating peoples with whom we all share this complex country. Never before has our past been explored in this manner.
THE FIRST WORLD CHAMPIONS – The Untold Story of the Legendary 1937 Springboks
Michael stumbled upon the quite remarkable story of the 1937 Springboks in an old Cape Town bookstore. And being both a rugby fan and a passionate historian, he was amazed that he had never heard about this story before.
Inspired, Michael Charton – Motivational Speaker proceeded to scour the photo albums and scrapbooks of these old Springboks over the next 18 months. A process which opened his eyes to a set of amazing anecdotes: their remarkable relationship with the Maori people; the Springbok's last Zulu "Haka," a young Jewish star who would later make his way into Hitler's bunker; and the antics of a famous gentleman-thug: Boy Louw. Stories offering a rare glimpse into the beauty of the human spirit.
Then, following a strange sequence of events, his obscure passion for this tour evolved into a talk, which Michael has subsequently delivered for select audiences around the country, to consistently outstanding feedback.
The story weaves together a few of the key characters of this tour. It unlocks the context behind the special old rivalry between the All Blacks and the Springboks; it celebrates rugby's amateur era together with its associated gentlemanly conduct; and it re-introduces to the world a group of men who sacrificed in both peace and war. Follow SI on Twitter
This is a story where sportsmanship and value systems leap at you through its characters, reminding one, through an emotional sense of nostalgia, what is truly important in life and legacy.
TESTIMONIALS:
MY FATHER'S COAT
Paul Harris (FirstRand and Homecoming Revolution)
I had the privilege of attending Michael's show recently. It was riveting. The political turmoil in South Africa at present tends to consume us and, I dare say, depress us. However Michael's talk highlights that this is not new – we have a rich and fascinating history filled with conflict, toil and amazing characters. It is what has made us so resilient as a country. The talk will leave you in awe of what our forefathers have gone through in their fight for a place in this country.
It will show why living here is at times frustrating and depressing, yes, but exciting , vibrant and never boring.
I highly recommend it to everyone with an interest in this country and especially to South Africans that think that the "grass may be greener on the other side".
Denis Beckett (Author, Columnist) (Excerpt from his column in the "Star" (July 7th, 2017)
"Is a new South African phenomenon arising here? I'd say, after due reflection: "Yes".
Michael's thing is seeing the world, and more specifically the nation, through different eyes. On the face of it that sounds pretty standard, but I've spent far longer than Michael on this planet and on this soil and he brought up an extraordinary number of ways of seeing things that I had never seen before."
Yaw Peprah (Chief Business Officer at WESGRO)
A captivating rehash of our complex past, masterfully and eloquently delivered using a carefully researched journey of 5 influential figures. Bravo!!
Vuyokazi Mhlophe (Director Big Eye Branding)
Michael Charton – Motivational Speaker presentation and story is both exhilarating and inspirational. I liked his authenticity and respect of South African history and heroes and I found the experience eye-opening and though-provoking. I would recommend that anyone who wants to contribute in making South Africa great attend Michael Charton's "MY FATHER'S COAT."
Mike Stopforth (Entrepreneur, writer, speaker)
About 8 or 9 years ago I had the privilege of seeing the late David Rattray tell incredible stories of the epic Anglo-Zulu battles of Isandlwana and Rorke's Drift. He spoke for two hours, non-stop, and I hung on to every single word. He was, and still is, the greatest public speaker and storyteller I've ever had the pleasure of witnessing. I see many public speakers, but none have come close.
That is, until last week, when I met Michael Charton from Inherit South Africa. He has crafted a phenomenal talk called My Father's and I got to attend one of the first public "screenings" with my EO forum. I was riveted. I laughed, I learned, and in many spots, was an emotional wreck. I haven't been able to stop thinking about it since.
I urge you, especially if you, like me, could do so much more to learn about and understand our roots and the decisions, forces and circumstances that brought us here, to make a plan to see Michael Charton – Motivational Speaker. Or book him to come speak at your company or organisation. It will be an invaluable and challenging exercise in perspective, and a guaranteed way to remind you just how special and truly remarkable our home is.
Peter Rodseth (Managing Director of Utility Systems)
What a wonderful evening with Michael Charton last night!
It was absolutely riveting, and I can sincerely say I did not want it to end. I have heard many of South Africa's legendary historical storytellers, and there is no doubt that Michael is as good as any I have heard! He tells an entertaining and fact-filled story, and his delivery is superb. It's a story every South African ought to hear.
He will I have no doubt become a household name in this country, and indeed abroad, as more and more people hear him relate this fascinating version of an important time.
Avukile Dlanga (SEBATA – MICROmega)
Thank you very much for your South African story! I am greatly touched. Its very very powerful!! You are a Game Changer.
Michell Davis (Head of Marketing – Wesbank)
This has to be one of the best, most grounding, thought provoking, contextual and phenomenal presentations I have attended in a long time.
This was an eye opener and one that every South African should listen to! I had a few blush moments knowing that I call myself proudly South African yet didn't know half of the complexity of this very rich country of ours.
You HAVE to hear him.
Dave Larkin (MD of Freshmark Systems)
Testimonials: THE FIRST WORLD CHAMPIONS
Steven Morris: Managing Partner – Eventful Group
A most incredible, inspiring, moving, eighty minutes.
Chris Wadman: Economist – Treasury
Michael Charton's unique ability to bring to life the wonderful characters of the 1937 Springbok Rugby Tour to Australia and New Zealand, is the cornerstone of his presentation. Hollywood has seldom, if ever, had me more riveted. His knowledge of the topic is extraordinary, as is his sense of empathy with those sporting legends now long departed. For enthusiasts of South African history, or rugby, or both, Michael's presentation is a absolute treat.
Justin Nurse: Founder – Laugh it Off
Michael is an authority and an inspiration. His commanding presence will have you enthralled. He speaks about the 1937 Springboks with a pace and passion that makes you feel like you were one of the green and gold.
Never have I felt so proudly patriotic as I did listening to Michael; joyfully reliving one of the greatest ever rugby contests played out before I was even alive.
Roy Edge: Managing Partner – BDO Pretoria
Outstanding! Reminds me of David Rattray and his takes on the Zulu wars.
Lisa Griffiths: Associate Director – BDO Wealth CT
Michael's presentation was truly exceptional and the audience was enthralled from beginning to the very end. I can confirm that this was our most successful client function to date.
Grant Bodley: CEO – Dimension Data (AMEA)
This is an inspiring story about people as much as it is about rugby. Michael introduces the listener to a whole new world, and reignites one's passion for the game of rugby, as well as the great rivalry of the Springboks and All Blacks.
It is a must-see experience whether you are a rugby supporter or not. There are many invaluable life-lessons to be learnt.
Sven Koenig: Head – Investec Property Cape Town
Michael entertained a group of select Investec clients with his rendition of the 1937 Springbok tour to New Zealand. It was an outstanding event thoroughly enjoyed by all who attended. Michael Charton – Motivational Speaker is an excellent narrator with great knowledge of his topic and for any rugby enthusiast listening to him is wonderfully entertaining.