Nik Rabinowitz – Conference Comedian was raised on the mean, green streets of Constantia, Cape Town; a world of ride-bys on horseback, piano lessons, and unrelenting love and financial support from family members.
He grew up on a farm, climbing trees and commentating on his own rugby games, in Afrikaans. Book through Speakers Inc
Despite all his childhood hardship, he has managed to maintain the success and fame by recognition of being the world's foremost Xhosa-speaking, Jewish comedian.
After graduating from UCT with a Business Science Degree and a large afro, Nik took off with a band of traveling actors and a herd of asylum-seeking Zimbabwean donkeys before discovering stand-up comedy one spring afternoon in 2001.
A few summers later he was awarded "SA Stand-up of the Year" for 2008, having established himself as the world's leading Xhosa-speaking Jewish comedian.
Nik Rabinowitz – Conference Comedian has performed alongside some of the country's finest funny people, including two smash hits with Marc Lottering & Riaad Moosa under the direction of David Kramer (Three Wise Men & Three Wiser Men).
VIOLENCE IN SPORT
ON JACOB ZUMA
"What Johnny Clegg has done for popularising Zulu indlamu and maskandi – Nik Rabinowitz achieves for language… He paints a crazy, seductively irreverent, broad canvas of who we are, voetstoots. And that's totally ngca." – The Star. Follow Speakers Inc on Twitter
South Africa: A Long Walk to a Free Ride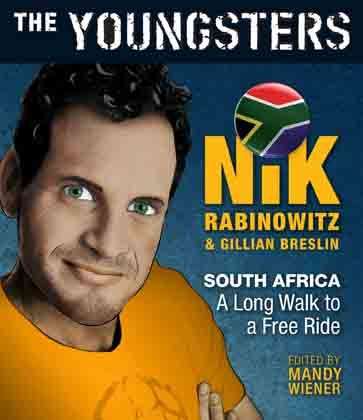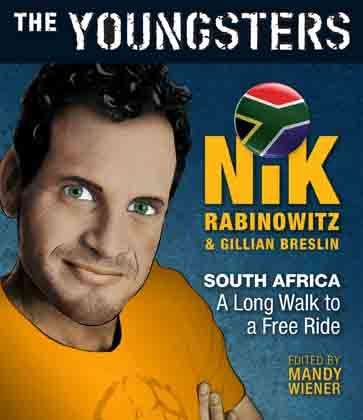 According to these two ageing youngsters, 'The hardest thing about history in South Africa is getting people to agree on it.'
A fast-paced, hilarious guide to surviving your youth in South Africa. Expect a history lesson with a difference, what makes a comedian tick, some alternative political insights and thoughtful crystal-ball gazing.
Join Nik Rabinowitz and Gillian Breslin on a side-splitting journey to discover the 'real' South Africa.
Tech requirements: A good PA system with a good quality mic; good lighting and a stage (if necessary) required …