Nikki Bush helps parents and educators make sense of a fast-changing world in a variety of settings; from companies, to conferences and schools.
As a mother of two teenagers herself, she walks an authentic and empathetic journey with her audiences.
Her energetic and insightful talks are fuelled by her passion for play, connection and relationships which are highly memorable. Book through Speakers Inc
Nikki Bush is the co-author of three best-selling books: 'Future-Proof Your Child', 'Easy Answers to Awkward Questions' and her latest and very topical book, 'Tech-Savvy Parenting', which was published in August last year to much acclaim.
Nikki writes a weekly column called Parenting Matters, which is used in many school newsletters and on company intranets around the country, whilst also being a regular guest on radio and TV and often quoted in the print media.
She is the parenting expert on SABC 3's Expresso, the family expert for Longevity magazine and she is on the advisory team for Living & Loving magazine.
She recently launched her own online parenting TV channel – NikkiBushTV and she provides a host of online parenting resources and support.
Nikki Bush is a guest lecturer for the Wits Business School Executive Development Program and she recently returned from a speaking tour of schools in Hong Kong.
A note to companies and the business community:
With more two-income families, the work place is finding itself top-heavy with parents.
The result is that companies are increasingly needing to bring parenting talks into the business environment – from the shop floor to the boardroom – to meet time-starved parents where they are at.
Working parents have little time and energy to attend evening talks at their child's school (schools are battling to get parents to attend) or to go on private courses on the weekends.
In additions, parents today are bringing up the next generation of talent that companies will one day employ – children who will lead and shape our economy, social institutions and our country – so we need parents to do the best job that they can.
Parenting education is becoming a very necessary part of an organisation's investment in its own people.
In addition, empowered parents with better parenting skills and confidence in their own ability to build relationships with their children, feel less guilt and are happier, while being more productive and focused at work.
Empowering parents and supporting family life is good for the bottom line as well as for staff retention. Follow Speakers Inc on Twitter
Nikki Bush offers the following keynotes suitable for parents and business teams in the business environment:
Brand You© – Personal branding in the workplace, particularly suitable for franchise organisations and network marketing groups.
Bridging the Digital Divide© – To create tech-savvy children parents need to bridge the digital divide and find their middle ground in a world of digital challenges. Talk for senior primary and high school parents.
Children Living in the Red Zone© – What's stressing our children? Who is responsible and what can we do about it? Talk for pre- and primary school parents.
Children of Substance© – We need to bring up children of substance, with a strong inner core, who will be able to adapt and adopt in a fast-changing world. Workshop for high school parents.
Connecting through the Noise and Clutter© – Learn how to understand and overcome the noise of technology and the clutter of consumerism that runs interference between us and our children. Talk for pre- and primary school parents.
Future-Proof Your Child® – What you need to know about tomorrow today, why you need to know it and what you need to do to prepare today's children for a fast-changing world? Explore the X-factors for success in the new world of work and how to develop them in your children. Talk for pre- and primary school parents.
Get outta your head!© – In the high-performance business environment sometimes we need to get out of our heads in order to really connect with each other as human beings and for ideas to flow. Play, connect, relate in this fun, play-based team-building workshop.
Let out those kite strings!© – Letting go and letting grow are both essential to loving and parenting your children to enable them to survive and thrive independently of you in a fast-changing world. Workshop for pre- and primary school parents.
Parenting on the Run® – A poignant, fun and interactive workshop to help pre- and primary school parents with work-life balance. Discover how to stay connected to your children despite your busyness through the art of being truly present.
Tech-Savvy Parenting – Tech, screens and connectivity dominate children's lives today. Parents need to become tech-savvy so that their children become responsible digital citizens one day. For parents of toddlers through to teens.
Which hat are you wearing now?© – The choices and challenges facing working women today as they aim for that often elusive state of work-life balance.
Equipment requirements for a presentation are:
Data projector
Screen
No lectern just a small table for Nikki's laptop at the front of the room where she will be speaking
Microphone if there are more than 50 people (handheld cordless or lapel mic are preferable as she moves around, particularly during workshops)
Audio / sound cable if you select a talk that includes movie clips and music
A table for book sales if you are not supplying books as part of the goodie bags
Access to a plugpoint for the credit card machine or supply an extension cord
FUTURE PROOF YOUR CHILD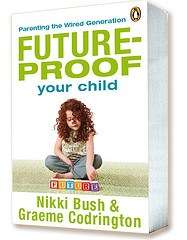 "Stop the world, I want to get off!" is the regular refrain of time-pressured parents today. "Give me an experience and I'll promise you a relationship," is the mantra of their children. The world has changed.
The future has changed. Childhood is changing. Raising children has never been more challenging – or potentially rewarding.
TECH SAVVY PARENTING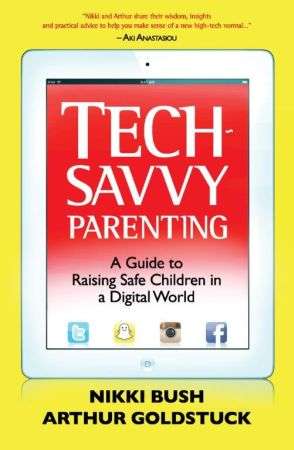 TECH-SAVVY PARENTING brings together the experience, research, observations and advice of respected parenting expert Nikki Bush, and leading technology commentator Arthur Goldstuck.
This insightful duo will help you get a handle on what's happening in the digital space to ensure your children are safe and savvy in this fast-changing world.
They'll guide you through the terminology, dangers and opportunities of technology, while placing children's use of all things digital firmly in the context of the relationship between parents and their children.