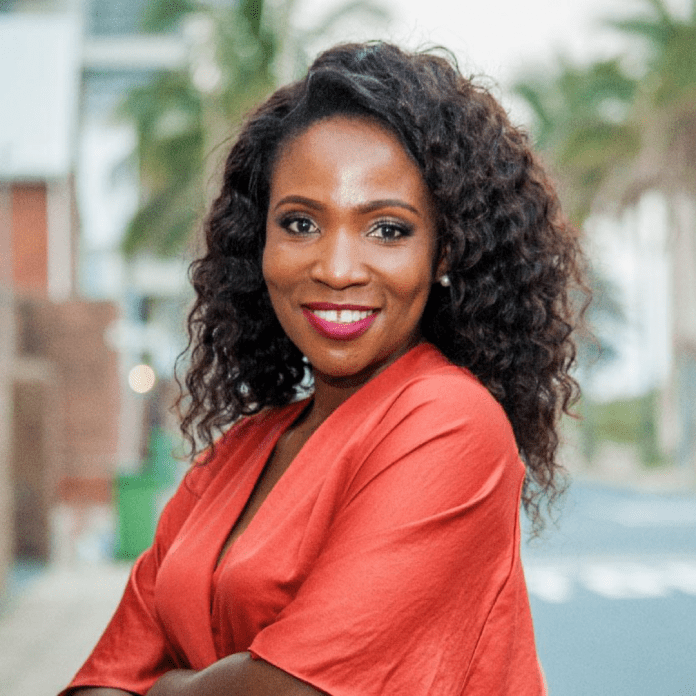 Nokuthula Magwaza (Nox Luthuli) is an award-winning, serial entrepreneur, passionate about life, nurturing and developing talent (people) and brands for growth.
I'm a vibrant and dynamic leader who has over the past 16 years in business identified her strengths not only in marketing, advertising and communications but also in public speaking, coaching and leadership development.
I resonate with leaders across all age groups, from youth to executives, from private to public enterprises, transferring leadership competency skills and personal branding skills to nurture sustainable growth.
My Motto ~ Blooming is the only evidence of life. So keep growing, keep leveling up! There's no arrival #KeepBlooming
This motto fuels my insatiable passion for Women Empowerment and Leadership Development to inspire and help women unlock their latent power and potential to succeed through a series of Masterclasses, Inspirational Talks & Coaching
Backed by 8 years of Corporate experience in Unilever management, Nox founded Bloom Marketing, an integrated marketing communications agency, specializing in Marketing Strategy Development and Brand Activations based in Durban and Johannesburg.
She has been the MD of the this award winning agency for the past 13 years, crafting remarkable activation campaigns for multinational corporations such as Unilever, Perfetti Van Melle, Austrian Energy Drink ~ Powerhorse and leading local enterprises like Vodacom, National Brands, City Of Joburg, Tourism KZN to name a few.
She's also the Founder & MD of LUTLUXE LIFESTYLE BRANDS an agile sister company to Bloom Marketing specializing in the development of lifestyle brands using the latest technology and trends to creatively solve every day challenges through conventional and digital channels.
In 2014, she developed the first of its kind Make-Up Mob retail brand, a sophisticated and convenient make-up boutique, for all occasions ranging from weddings, film, fashion shows and commercial shoots, which is gearing up for franchising in 2017.
She is a well-accomplished businesswoman, recognized by the CT & DBN Film Commission in 2009 as one of the four Young Creative Directors moving and shaking the creative industry to attend Cannes Film Festival.
She was also nominated as one of the Cosmopolitan Magazine's 2009 Fun and Fearless Females.
In 2011, she won the BWA KZN Regional Business Achiever Entrepreneur Award. As a sterling businesswoman, she has won the 2011 and 2012 UMYEZANE Black Economic Achievement Award for Best Black Female owned business in KZN, by The Department of Economic Development & Tourism.
Under her leadership and creative direction, Bloom Marketing scooped the Retail Marketing Silver (2011) and Gold (2012) SACSC Footprint Awards by South African Council of Shopping Centres for Shopping Mall Marketing.
Her Motto ~ Blooming is the only evidence of life, when you stop blooming, you are dead!
This motto fuels her strong passion for Women Empowerment and Leadership Development. Following her moving Keynote Speech for Ithala Enterprising Women event and numerous other speaking engagements at women organizations and events, she was moved on her 40th birthday to help as many women lean in through a series of Motivational Leadership Talks titled LEAD YOUR LIFE.
She runs a digital inspirational platform on Instagram called "Bloom Inside Out" (BIO) to unlock women potential, encourage them to pursue their passions and lead their dream lives towards gender equality. She recently pursued her passion, designed and launched a range of bespoke scented BIO-Candles as inspirational tools and gifts for women to ignite their dreams.
She hosts quarterly BIO_Women sessions to change the narrative of women in business, facilitating pertinent conversations that impart insights, lessons and strategies for women to progress in business leadership.
She is a Committee Member for Business Women Association (BWA, Durban), where she volunteers her skills and expertise to other women to thrive in business. She has been invited to judge various industry awards such as the South African Council of Shopping Centres.
Nokuthula Magwaza
---
In 2016, she was invited as a Judge for the largest creative awards in SA and the Middle East, The Loeries, and invited to join the Advisory Council of Vega School of Brand Leadership. She consults in Personal Branding, Personal Positioning and Profiling to help women realize their full potential to succeed and increase their equity in the market.
With more than two decades of collective experience and lessons from Corporate and as a serial Businesswoman, Nokuthula Magwaza has brought many subjects to life at various local and national events in South Africa viz:
Enterprising Women and Gender Equality
Entrepreneurship and Start Ups
Leadership, Women In Business
Future Leadership, Youth Development, Career Development
Build Your Brand, Personal Growth, Personal MarketingAs a marketing extraordinaire, below is just a smidgen of the value and depth you will receive as your event, workshop or conference consultant:
Event Planning to Program Development
MC and Program Direction
Facilitation of Workshops and Strategy Sessions
---
Contact Us at Speakers Inc and follow on Facebook