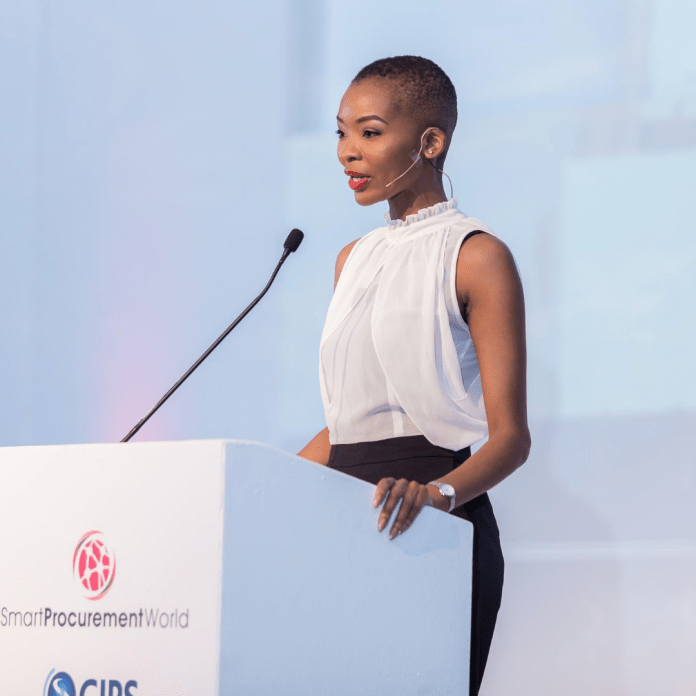 Nzinga Qunta is a business news anchor with over a decade of experience in radio and television. She is currently anchoring SABC News' flagship business news bulletin, OnPoint, where she focuses on the top business news stories from across the world and speaks to a range of decision makers on the top stories of the day. She works on radio on an adhoc basis, on Kaya 959's Business Show, Kaya Biz, and their current affairs show, Point of View.
Qunta is a seasoned moderator who facilitates high level conferences, events and seminars with a focus on business, entrepreneurship, innovation, education and tech.
Her work includes facilitating discussions at the World Economic Forum's virtual Davos Dialogues in 2021, a discussion with CEOs and the President of South Africa on the South African economy and investment in Davos, Switzerland, MCing theSouth Africa Investment Conference each year since its inception, interviewing the founder of the $365 billion tech company Alibaba, Jack Ma, facilitating discussions at WEF Africa with the Presidents of the Seychelles, and Namibia amongst Qunta is trusted to host heads of state, CEOs, and business leaders and is known for being able to ask the right questions, keep time and moderate fairly and professionally.
She has moderated events and discussions for corporates and institutions such as Microsoft, Old Mutual, Altron, Standard Bank, Nedbank, CIPS, Brand SA, Fundi, Business Leadership South Africa, Brand Finance SA, Wits Business School and more.
Besides her ability to hold weighty conversations with international guests with poise and grace, Qunta is also known for her distinctive, elegant African attire. Qunta has a Law degree as well as an English literature qualification which serve in her ability to be logical, find the best way to conduct proceedings and add gravitas to whichever events she may be booked for
Nzinga  is able to MC and facilitate discussions, conferences, events and seminars with a focus on business, entrepreneurship and innovation in both an intimate and large setting.
She has a wealth of experience and expertise that she has learnt from her time in Journalism and MCiing at key corporate events and facilitating panel discussions
TESTIMONIAL:
The brief for the MC was that it needed to be someone who was in tune with the latest developments in the country and who would be able to command the room.
From the onset of my interaction with Ms Qunta, she handled herself with the utmost professionalism, providing quotes, biographies and photographs on time. She attended briefing meetings diligently and interrogated the content of the briefing documents in order to ensure that she was well informed on the subject matter of the event. I received high praise for selecting her as the MC for the event and even received a personal mention from the CEO in the after-event review.
In conclusion, it is my greatest pleasure to give Ms Qunta my highest recommendation as an event MC. She will deliver the content that she has been briefed in an insightful and charming manner.
Sincerely,
Richmond Sajini
Account Manager
Contact us at Speakers Inc and subscribe to our YouTube channel