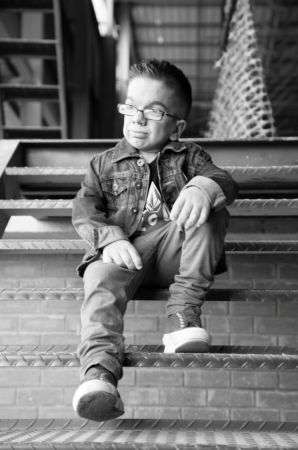 Oscar von Memerty – Entertainer is a walking, dancing miracle SENSATION! Son of well-known celebrity, Ian von Memerty – the FANTASTIC judge of SA's Got Talent, Oscar was born with a rare fatal genetic illness, MPS 6.
At 19 years old, he stands just 117 cm's high, he has aluminium screws in his left leg, he has recently had a cornea transplant, and he has survived two bone marrow transplants and a ten minute cardiac arrest.
Despite all of this, he has discovered a thrilling talent for hip hop and developed a powerful and unique style of motivational speaking and stand-up comedy through Speakers Inc
His message of overcoming huge obstacles and turning adversity into triumph is guaranteed to not only inspire people, but because of his talent, humour and charm, will also truly entertain them.
Oscar offers the following in his shows:
A motivational speech
A Hip Hop solo
A Q&A session with the audience
Final wording and the ending of the show
(Total duration: 15 – 20 minutes)
He is guaranteed to liven up your awards ceremonies, family fun days and many more types of events! Follow Speakers Inc on Twitter
PEOPLE TREAT YOU DIFFERENTLY
DAGBREEK – OSCAR VON MEMERTY
Oscar von Memerty – Entertainer
"Oscar has an incredible story of courage and hope to tell following all the challenges he has faced in his young life, much like the people we at Coloplast serve on a daily basis. Our team were left inspired and motivated to ensure we can make a difference to others just like Oscar is doing with his personal story and dance."
Dave Dudley, Country Manager of Coloplast
"Oscar inspired both the pupils and teachers with his talent for dance and the relevance of his messaging – that anything is possible if you believe in yourself. His ability to connect with the audience has given us all a feeling of hope and we would like to invite Oscar back to our school in the near future."
Harriet Schravesande, a counsellor at Sagewood School