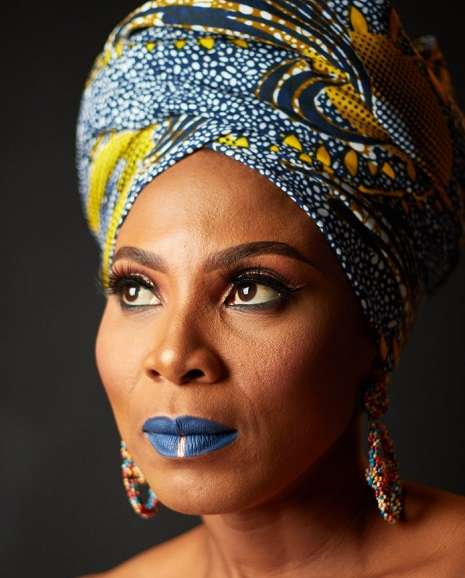 Penny Lebyane – Celebrity MC is multi-leveled media practitioner, a broadcast television anchor, radio host, a speaker with a cross cultural experience on Community, Public Service and Commercial radio and television. Penny is now available through Speakers Inc.
Penny currently hosts Let's Talk Papgeld, a 360 Insight On The Impact of Child Maintenance SA and UnBreak My Heart a Relationship Therapy Show. Both the shows are broadcast on South Africa's black owned newly launched TV channel MOJA LOVE 157 DSTV weekly.
She is the former host of ETV's flagship Breakfast Show Sunrise daily from 2014 to 2018 and as the host of Sunrise, she tackled conversations, debates, and interviews from the latest breaking news in current affairs, business news, health, entertainment and sports with a myriad of South African leaders across all fields including the likes of Dr Naledi Pandor as Min of Science and Technology, Dr Zweli Mkhize ANC, Adv Thuli Madonsela, Happy Ralinala ABSA/Barclays, Mr Siyabonga Gama Transnet, Dr Aron Motsoaledi, Dr Tim Tebeila, Dr Danny Jordan SAFA, Yvonne Chaka Chaka, Oliver Mtukudzi, Lillian Dube, Lucas Radebe, Khanyi Dlomo, Dr Prescious Motsepe, Beverly Bond, Proffessor Pitika Ntuli,Min Nathi Mthethwa, Bishop TD Jakes, Sello Hatang Nelson Mandela Foundation, Geoffrey Qhena IDC to mention a few.
She was the host of South Africa's highly rated SABC2's Women Talk Show Motswako for five successful seasons until 2013. Penny Lebyane – Celebrity MC is passionate about WO+MAN(women and man) and how together, we can build greater communities.
She has worked closely with various government, NGO's and educational institutions and corporates on issues of women development, mental health, youth empowerment, education and self-actualisation and community developments, such as; South Africa Depression and Anxiety Group, UN Women, Nelson Mandela Foundation, Tshwane University of Technology, Wits University, University of Johannesburg, National Youth Development Agency, Department of Communications, Metropolitan SA, SHELL SA, Grace Bible Church amongst others. She was an Influencer for a School Programme for Keeping Girls P&G, Department of Basic Education and UNICEF in 2015 she summited Mount Kilimanjaro to raise awareness for Sanitary Pads.
Penny Lebyane – Celebrity MC
Penny started her foundation, The Penny Lebyane Foundation in 2012 which through Mentorship programmes at schools and higher learning institutes, brings light to students in different career fields and also affords young people the opportunity to be guided both career wise and on personal development.
In 2012, the foundation launched an Outreach Program which focused on rural schools in the Bushbuckridge,Mpumalanga area where she was born and schooled until Grade 7. The foundation started vegetable gardens at the six of the schools visited during the outreach program, poverty is a common problem in rural areas starting vegetable gardens seemed like the best solution as it will be able to sustain the children at the schools.
Penny Lebyane – Celebrity MC business ambitions shine through the creation and building of her Convergence Media Company – Penny Lebyane Enterprises with interest in Radio and Television Productions, Online & Print Media, Mobile Technology, Content Generation and Communications & Events. One of the highlights of her career was an exclusive interview on International News Network Aljazeera about the impact Oprah Winfrey had on African Women and their Development. The network identified Ms Lebyane as a Voice for African Women as the host Motswako on SABC2 Weekly in 2011.
Penny's MC highlights include:
Global Citizen Mandela 100 Advocate – Moderated a Live TV Discussion with Chris Martin Of Cold Play and Kweku Mandela Executive Producer Of The Concert.
Coca Cola Africa Global Citizen Speaker.
Nedbank SA Global Citizen Advocacy Presenter.
Medshield Medical Scheme Product Launch Road show host 2018.
Medshield Women's Day High Tea Host.
African Child Feeding Scheme Gala Dinner Fundraiser with Delloitte SA Host 2017, 2018.
United Nation Women In Extractive Industries Conferance Moderator 2016 in Nairobi, Kenya.
UN Women One Organisation Poverty Is Sexist 2016.
The Presidency of SOUTH Africa 2018 Wellness Day.
EOH Health and Empowerment Event 2018.
Spar Challenge Woman Race 2017.
Department of Human Settlement Awards 2017.
South African Teachers Awards Host 2017.
Videos:
Follow Penny on Twitter.