Rachel Colenso – Motivational Woman's Day
Rachel Colenso – Motivational Woman's Day The first of four women in the world to go through the British SAS Special Forces Selection process.
Rachel Colenso is one of the most extraordinary female adventurers and climbers in the world along with Motivational Speaker, Conference Speaker and Women's Day Speaker through Speakers Inc
Rachel Colenso – Motivational Woman's Day
She is a highly successful business speaker and her speeches have inspired many delegates to take back key messages to motivate their teams at international management conferences in various countries. She has captivated audiences as a keynote speaker in national road shows and she has encouraged smaller organisations to excel beyond their expectations!
She has an impressive list of clients who have endorsed her speaking and supported her numerous adventurous expeditions for charitable causes. Over 80 % of her current client base is from repeat bookings or direct word of mouth contact from clients.
Rachel masters dramatic story telling, taking command of the stage and compelling her audiences to climb with her through windswept icy mountains, to experience the danger and the trialling team interactions, the calls for strong leadership in tough 'life or death' moments as well as the joy of realising hard earned success.
Rachel's ability to move seamlessly between the different worlds is assisted by having run her own business alongside competing at an international level in extreme sports events, toppled with her longstanding experience in the speaking industry.
She has led numerous expeditions to jungle, desert and snowy regions around the globe. She is also the first woman to succeed in the African Mountain Guides Scheme.
Rachel Colenso – Motivational, Woman's Day is skilled in inspiring teams to work synergistically and resourcefully, creatively nurturing opportunities for success.
PRESENTATIONS: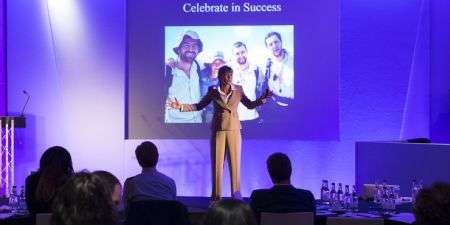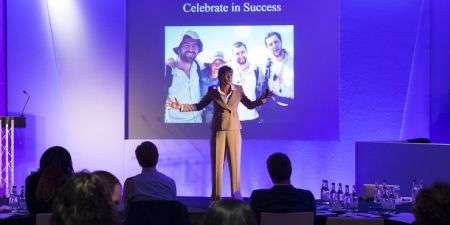 Rachel has an impressive list of clients who have endorsed her public speaking, as well as her adventurous expeditions to promote eco tourism and sustainable development.
Rachel is well informed and articulate, having run her own business alongside competing at international level in extreme sports events. Rachel Colenso-Motivational Woman's Day has led numerous expeditions to jungle, desert and snowy regions around the globe.
In October 2003 Rachel hit world headlines when she was stranded on a sheer face at 3000m during an extreme blizzard in the Swiss Alps. After two nights on a tiny ledge with 1000 metre drops each side she was evacuated by helicopter.
Her inspiring book, 'In a High and Desperate Place' also provides useful information for business or life on how to survive and succeed in times of extreme adversity.
Her account of this experience has people on the edges of their seats, and thinking for a long time afterwards about how they can deal with situations in their own lives. Follow Rachel on Twitter
Rachel's background of guiding in mountains and jungle environments enables her to be at ease talking to corporate audiences, at charity and celebratory functions and to school children alike.
One of her greatest achievements must be in making people aware of what can be accomplished despite unforeseen events, or plans that don't run smoothly.
Rachel inspires her business audiences to excel despite tight deadlines and demanding situations. Rachel Colenso – Motivational Woman's Day humorous insight into how teams and leaders operate under stress is a popular after dinner and keynote
Rachel Colenso – Motivational Woman's Day
"Rachel's tales of survival in the most hostile environments, and her relentless pursuit of new heights to climb, literally and figuratively, have a lot of resonance in the business world. Whether the goal is to reach the peak of a mountain or the pinnacle of entrepreneurial accomplishment, the lessons Rachel puts forth apply just the same. Rachel drives those points home from a very unique perspective. She is a powerful motivational speaker." Walter Gehl, CEO LSG Lufthansa Service Holding AG:
What an amazing experience with you there! Nobody else could have reached our audience better than you. Your message was so incredibly personalised and truly touched hearts.  The quality that I appreciated the most about you (other than your amazing insight, humbleness, courage and passion for life), is the fact that you really took to heart what we discussed during our telecon and how you structured your presentation to optimise the reach to our people who find themselves in times of difficult change.
Thank you also for the lovely manner in which you participated in the handing out of the certificates and signing of the books Kind regards Tomé van Wyk, Internal Communication Specialist Wealth, Investments Momentum
'It was a great pleasure to work with Rachel across South Africa with the launch of our "See No Boundaries" campaign.
There is absolutely no question that you "struck the right cord" with our audience and left them inspired, motivated and reflective of their own life, where perhaps they remain in the ruts of life's daily challenges that often drag them down. I spent a lot of time during your presentation looking at your audience where I could see that they were glued to your message of overcoming obstacles and your own personal journey of self development and growth. Seemingly in Cape Town, you even left some of our staff in tears of inspiration!
Thank you for a few days of motivation and I look forward to working with over the next few months to help us reach our business objectives in our "See No Boundaries" Challenge.'Kevin Hinton, Head of Investment Distribution, Momentum Distribution Services