Rams Mobate – Business Motivational
Rams Mobate – Business Motivational is host of leading motivational and business talk show on South Africa's biggest commercial radio station, Metro FM Talk. He is a regular stand-presenter of Interface on SABC 2.
Rams is also a public affairs heavyweight. He's expertise in Public Relations, Reputation Management as well as Media have seen him build a strong reputation over the last 24 years advising corporates, governments and entrepreneurs. Available through Speakers Inc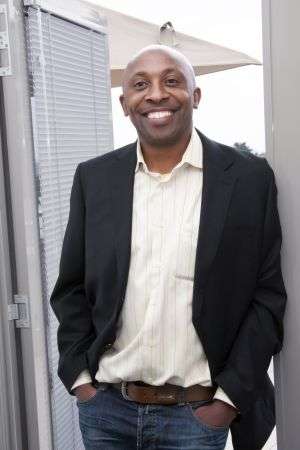 Rams Mobate – Business Motivational
RAMS THE KINGMAKER
Trained as a journalist nearly 25 years ago, Rams Mobate – Business Motivational worked for several newspapers. He continues to write thought leadership and opinion articles in local media and writes a monthly column for an Australian news magazine Dubbo Weekender.
Born in Soweto in 1970 is also an author (Public Relations Not According to Thabo Mbeki) and a very keen 9 handicap golfer. He has written extensively on the sport.
He is very passionate about social development and philanthropy. He sits on the board on Sesego Cares and he is founder of the Rams Mabote Foundation, which focuses on mentoring boys in disadvantaged communities.
As a groomed facilitator, MC, speaker, and coach Rams has managed to weave into his repertoire his expertise, experience, passion, street wisdom, wry humour and elegance.
PRESENTATIONS:
As a groomed facilitator, MC, speaker, and coach Rams has managed to weave into his repertoire his expertise, experience, passion, street wisdom, wry humour and elegance.
This is an adaptation of a recent talk I gave on reputation
Do you remember the most famous line by Commodus played by Joaquin Phoenix in the movie Gladiator?
"What we do in life echoes in eternity."
Indeed, what we do in life, echoes in eternity.
Or, as Mark Anthony said at the burial of Julius Caesar: "The evil that men do lives after them. The good is oft interred with their body"
I am often asked: how does one build a good reputation? And my answer is always simple: be predictable; be consistent. What we do in life echoes in eternity.
Many BMWs break down by the roadside, but more of them leave their drivers happy with performance, reliability and sometimes, looks of vanity.
Christiano Ronaldo does not always score goals, but just as the sun rises in the east and sets in the west, he is a one-goal per game striker better than most in the world.
Trees shed leaves in the winter and they bloom in the spring. That's what they do.
Consistency is a priceless commodity second to none. People have risked their wealth as well as their prized relationships at the altar of consistency before.
How many times have we put a bet on Tiger Woods winning yet another tournament, or on Nelson Mandela taking on the high road when the low road had more allure; or even on Eskom load shedding even when they have guaranteed us lights?
There is money in consistency and predictability. Because both breed trust and faith. And when you have trust and faith, you are willing to put your life on the line for what it is you trust.
Your reputation is the gold stock you have in your vault. It stays under lock and key and only you have the combination to unlock it, misuse it or even to ruin it. Others may attempt, but ultimately what we do in life echoes in eternity.
Reputation is also a promise. Because reputation is consistent and predictable, it is a promise we make. And if you do not keep your promise, you mess with your reputation. Follow Speakers Inc on Twitter
Let me demonstrate this by way of two people known to most if not all of us. The most obvious one is former South African president Nelson Mandela.
Today we remember Mandela for having carved the path of reconciliation in this country. This is a seed he planted from the day he walked out of Victor Verster Prison in 1990.
This is a promise he made to himself, to us and to the entire world.
And when the winters of doubt came, like spring, Mandela blossomed in his consistency. When the winds were blowing, his sails were up and charting the troubled waters.
Who can forget how in 1992 Mandela refused to reinstate the armed struggle when the people of Boipatong were baying for blood after their loved ones were maimed and killed by mysterious forces in the dead of night?
How many of us will forget how in 1993 he asked black South Africans to calm down after their hero Chris Hani was assassinated by white assailants metres away from his home?
Indeed who can forget the day Mandela forgave the IFP and its so-called amabutho who were accused of unleashing a reign of terror on township dwellers? Not only did he forgive, he gave Mangosuthu Buthelezi a very senior ministry in his cabinet.
Rams Mobate – Business Motivational
But Mandela did falter. He did not have the courage to forgive his ex-wife Winnie and later went on to divorce her. But such is consistency, sometimes it fails us. Sometimes the winning horse comes last.
Sometimes, the red roses don't bloom at the beginning of spring. Sometimes the eternal well runs dry. But tomorrow, consistency reverts to its predictability.
Its stumble is never permanent. And true to his predictability, Mandela later forgave and made peace with Winnie.
Even on the day you stumble from your predictability – like Mandela and Tyson did from time to time – those who know you must be able to say "but that is not who she is" or "we know a different him". Your reputation must precede you.
Yes some stumbles are more spectacular than others like Mandela's divorce, or Obama's retention of Guantanamo Bay, or Pastor Zondo's moment of weakness, or KFC's chicken wash or even Allister Spark's unsmart comments about Verwoerd. Some stumbles will remain a huge blemish on your otherwise impeccable face.