Richard Wright is available to present as the Cancer survivor and motivational keynote speaker to open or close your next East London, Eastern Cape event or conference.
Mr. Wright is a leading motivational speaker that delivers keynotes many times per year. Richard is available to speak at your next East London, Eastern Cape conference. Richard has been speaking professionally for over 5 years. His keynote and workshop topics include motivation, leadership, team building, RESILIENCE, Surviving Cancer and more.
By working with Richard, you are guaranteed a seasoned speaking professional that will make your event a success. Richard brings energy and positivity to each of his presentations.
Richard has presented keynote presentations around the globe to some of the largest organizations in the world including IBM, Old Mutual, Momentum, Unilever & More. Learn more about why Richard Wright is the right motivational keynote speaker for your next East London, Eastern Cape conference.
Richard Wright is a recognized expert in professional and personal reinvention. A highly sought-after keynote speaker, transformational leader and business mentor, he guides individuals and businesses to capitalize on change and magnify their impact.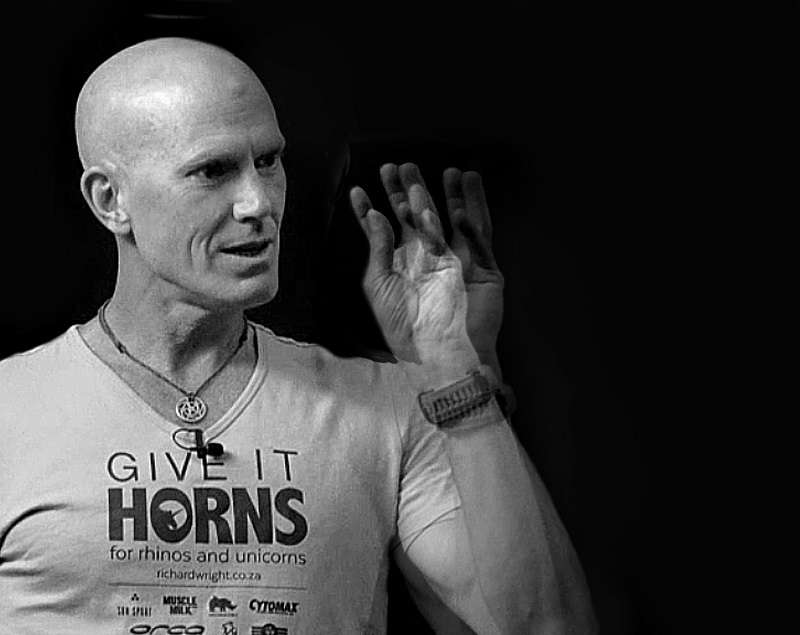 Richard worked in one of the largest Property businesses and personal development training companies in South Africa, overseeing more than R10 million in sales.
His unique expertise is in combining practical business tactics with accelerated learning strategies to embrace change, encourage innovation and increase sales for people and organizations worldwide. Richard Wright inspires, empowers and guides people to achieve massive and lasting personal and professional growth, whether it be as a keynote speaker, facilitating corporate workshops or mentoring individual.
A leading international keynote speaker, Richard has reached tens of thousands worldwide with his message of Resilience as the competitive edge in the face of today's complex markets. An attorney, entrepreneur and transformational trainer, Richard is a sought-after business culture catalyst who inspires, empowers and guides organizations and individuals to create sustainable, high-performance strategies. Richard through keynotes, workshops and business mentoring, helps leaders embrace change, cultivate work cultures of greater unity and resilience, as well as strengthen their voice as purpose driven leaders.
---
Travels from Johannesburg
Fee: R35,000 for live events
---
10 REASONS TO VISIT EAST LONDON
Affordability
The Eastern Cape is, in general, one of the most affordable destinations in South Africa, and East London is no exception. Accommodation, dining out, entertainment and popular tourist attractions and activities are priced perfectly, making East London ideal for large families or groups of visitors.
Good weather
Hot, dry summers and temperate winters mean that East London is not really restricted as a destination at any time of the year. Of course, those wanting to visit one of the many popular East London beaches – Eastern Beach, Nahoon Beach, Bonza Bay and Kidds Beach being just a few – should do so out of the winter months (July to August).
Heritage and History
This area was left untouched by colonialists and settlers for generations, home only to the indigenous South African people. As such, it has a distinct sense of history and a fascinating heritage. These are best seen at the East London Natural History Museum (which displays the only known Dodo egg in the world), the Ann Bryant Art Gallery, Gately House, Calgary Transport Museum and the Steve Biko Garden of Remembrance. City Hall also makes for a worthwhile visit.
Landscape
East London is the only river port in the country, making it a rather interesting sight to see. The stretches of coastline, the rolling hills and the lush greenery combine to create a very pretty destination.
Diversity
This aspect of East London makes for a holiday destination that caters to the needs of everyone. There is a mixture of exciting activities, interesting attractions, beautiful scenery, intriguing people and plenty more.
Wildlife
South Africa is a haven of wildlife, nurturing some of the most beautiful and exciting species in the world. In East London, some of these animals can be seen at Queens Park Zoo, the Gonubie Nature Reserve and the aquarium. Whale watching is a popular pastime between July and December. The Lion Park is always a favourite, whether visitors are seeing these majestic animals with experienced eyes or for the very first time.
Shopping
There are a number of big malls, exclusive boutiques and markets throughout East London that offer visitors everything from gadgets and gorgeous fashion to top-of-the-range vehicles and luxurious accessories.
Entertainment
Restaurants, night clubs, casinos and the waterfront development all ensure that visitors don't have a minute to be bored.
Sports
With the many beaches that line the border of East London, it is no wonder that watersports are popular here. Surfing, SCUBA diving, snorkeling, sailing, swimming, and waterskiing all keep the locals very busy, and invite visitors to join these ones in making the most of a gorgeous destination. This town has also been the home of many famous sportsmen and –women, including Makhaya Ntini and Peter Kirsten.
---