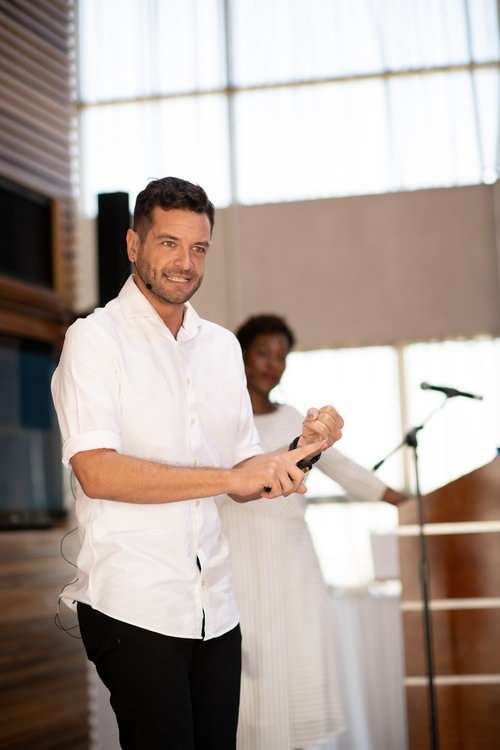 Roy Gluckman is a qualified attorney of the High Court of South Africa and the CEO of Cohesion Collective, an Equality, Diversity & Inclusions consulting and implementation firm. Roy has been speaking professionally on issues relating to Equality, Diversity & Inclusion since 2010 and has since developed into an exceptionally engaging, highly sophisticated and passionate speaker and facilitator.
Roy believes in having tough conversations; approaching his material with an honesty, authenticity and simplicity. Roy has mastered the art of making the difficult subject matter of Equality, Diversity and Inclusion easily digestible for audiences of all types and all occasions. As a keynote speaker, panelist, programme director and facilitator Roy continues to captivate and challenge audiences to pause and introspect, something he believes we do not do enough of.
Roy is committed to the creation of social cohesion (teams, organisations, communities, nations). Inspiring others to better understand themselves and one another by engaging with our differences, as opposed to ignoring them, so that we may actually come together and co-build a future for ALL of us.
Roy Gluckman – Equality Workshops
For many organisations, Equality, Diversity and Inclusion ("EDI") have long been peripheral goals. As a result, organisations often neglect to address the narratives of mistrust found among diverse identities in society. These narratives are reflected in the mistrust we commonly find between colleagues, and within our teams and organisations. This mistrust creates inefficiency, loss of productivity, disengagement, lack of innovation and loss of key talent. All of these harms our bottom line and prevent organisations from reaching their full potential.
Training
Diversity Training (All Types)
HR EDI Upskilling
EDI Leadership Programme
EDI Induction Programme
People Management Programme
Given the evolving nature of the Diversity & Inclusion subject matter, as well as global social sentiments , Roy Gluckman – Equality Workshops material is constantly developing and adapting to retain its relevance. All his programmes offer up-to-date research and real-world examples as it relates to issues around Diversity & Inclusion.
Roy offers:
Keynotes;
Small Group Sessions;
Workshops; and
Strategy Sessions
Download Roy Gluckman's PDF's on workshops available:





View Roy's Keynote profile – HERE and follow speakers Inc on Twitter