Ruda Landman – Behind Carte Blanche
Ruda Landman – Behind Carte Blanche are you struggling to build those extremely important partnerships in your life?
Whether it's customer/supplier, employer/ employee, department to department, company/unions, husband/wife or police/communities, the nature of the game has changed. Book through Speakers Inc
The ability to build partnerships that co-create value has become not only critical, but is in itself a powerful strategic differentiator for businesses, and an important prerequisite for happy and successful personal relationships.
Ruda Landman – Behind Carte Blanche
Alone, as good as you or your business or your marriage might be, you are just another commodity and you are at risk from a highly competitive and sometimes unforgiving world.
This demanding environment has forced us to become focused and individually excellent in order to survive and succeed.
As individuals and businesses become more independently excellent and self sufficient, so do they, unfortunately, become more polarised, creating the potential for conflict.
Fixed viewpoints, processes and behaviours that are independently correct for one party can be incorrect for the other.
The battle is on, with the spoils going to the strongest, the most powerful, or the party that is the best negotiator. Or a compromise is reached.
Whichever way it goes, value is destroyed. The battle has been won but the war has just begun.
Tomorrow's success goes to those who have the skills to build partnerships that create great mutual value – value that can never be achieved individually – while leaving both partners independently enriched and more powerful by the experience.
With inspiring stories, proven relationship building strategies and tips, this presentation will motivate you to build partnerships that are more effective and more mutually beneficial.
She started her career as a journalist at Die Burger, later moving to SABC as a radio and television reporter.
After some years with Sarie magazine, she became co-anchor of Carte Blanche, a position she held for 19 years until June 2007. Follow SI on Twitter
In 2003 Landman published a book on her experiences as a television journalist, titled Off Camera. She is a director of Media24.
Ruda Landman – Behind Carte Blanche has been married to JP Landman for more than a quarter of a century, has one son and devotes much of her spare time to being the chairperson of the board of Helpmekaar, a private Afrikaans high school in Johannesburg and serves on the Council of the University of Stellenbosch
Ruda's new talk entitled "To Dance and to Fish" starts off with her reading a beautiful deeply moving folk tale from Scandinavia and then uses that as an extended metaphor to talk about
• The masculine and feminine aspects of every one of us, both of which need time and attention
• The fact that everything we choose to do has a price tag marked in days, hours and minutes
• our responsibility for our choices
• the danger of being bullied into/drifting into a place where we never wanted to be
• how we can set about making choices that will recognize both the masculine and feminine aspects of ourselves, and feed our souls.
Ruda Landman – Behind Carte Blanche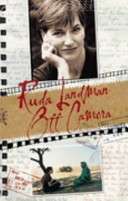 Ruda Landman established a wide and respectful following though her role as presenter on Carte Blanche. Here she steps behind the camera and writes with feeling and reflectively about her own involvement in the stories which appeared on the programme — and in some which never made it to the screen. Here is a new angle on the extraordinary events and personalities of our country and continent, told by a person of great warmth, sensitivity and integrity."