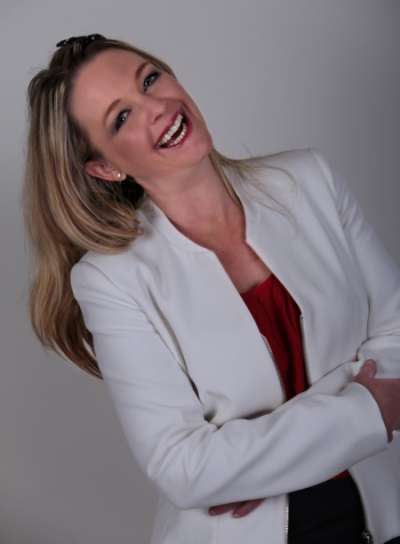 Sarah Bauling – Customer Service was born and bred in Johannesburg. Having been involved in her family business for the last 19 years she has discovered the importance and value of exceptional customer service. Sarah Bauling is a professional speaker, trainer, MC and author from Speakers Inc
As a speaker and trainer, Sarah's' passion and expert area is customer service!
With over 20 years of experience in the hospitality industry Sarah has lived and breathed customer service and her simple, easy to apply tools are those that can be used by all!
Sarah has various keynote presentations that are about taking your customer service ideals to the next level.
Whether you run a corporate company, a small business or simply deal with customers Sarah's high energy and vibrant presentations draw on real life experiences and scenarios that most people are familiar with and can relate to.
Sarah Bauling – Customer Service inspires and motivates her audiences to make small and simple changes to their daily work routines that will ultimately win customers and create loyal raving fans!
If you are looking for an MC that is vibrant, fun, able to keep the order of events running smoothly and show case your special event, then Sarah is the MC you are looking for!
Having been the organiser of both small and large events right through to being the MC on the day.
Sarah is well aware of the importance of having someone who is able to keep the function up beat, introduce other speakers and entertainers, be completely organised and efficient and most importantly keep the show running on time whilst ensuring the audience is having fun!
Whether it is a Ladies High Tea, a Corporate Event, or a function that requires relevant sponsors to not only be thanked but receive excellent exposure, Sarah Bauling can guarantee that she can achieve all of this seamlessly.
Sarah understands the importance of showcasing your special event or company "do" and will endeavour to do this in the most professional and appropriate manner.
She is well aware of brand identity, having been involved in creating 3 individual brands for the Harrop Family of companies, most well-known for Bill Harrop's "Original" Balloon Safaris.
Who IS Sarah and what does she bring to your event?
Sarah Bauling – Customer Service has an array of interests having done various courses over the years on management, sales and marketing, holding the position of Vice President on the Travelbags committee, right through to studying for her fellowship in graphology, ballroom dancing and Toastmasters. Customer Service Premium Partner
She has a natural love for life, people and experiences and ensures she brings the fun and vibrancy she has in her own life to the stage and ultimately your event!
With an associate degree in Speech and Drama attained through Trinity College of London Sarah is absolutely comfortable on stage and would be honoured and privileged to be part of your next event or function!
She will meet you for a pre-event briefing so she can understand exactly what you are looking for and ensure that the day runs seamlessly. Follow Sarah on Twitter
Sarah Bauling – Customer Service
"M to the power of 6"
The Magic of Customer Service
""M6" is a key note presentation that is about taking your customer service ideals to the next level.
The Magic of Customer Service illustrates:
Why Customer service is the most important facet in your business.
How to implement the "Magic of customer service" immediately with proven techniques.
That exceptional customer service can increase turnover and profit.
Take home:
The tools to turn customers into loyal raving fans.
To be in a position where you can change the lives of those around you.
An understanding of the importance of building rapport with customers.
Creating a Customer Service Culture
Customers will always have an expectation of service and product. Article by Sarah Bauling
Creating a customer service Culture illustrates:
That customers and potential customers have certain expectations in terms of product and delivery.
That the opportunities exist for one to create customer service expectations that will get customers signed up, retained and most importantly get them referring others!
That Customer Service will ultimately increase turnover and profit.Take home:
Ideas on how to create a community of non-buyers through blogs who can ultimately become buyers.
Opportunities to give current clients exposure and added value.
Understanding the power of talking to customers.