Stephanie Vermeulen-Emotional Intelligence
Stephanie Vermeulen-Emotional Intelligence is an innovative hands-on practical application deals with business attitudes that matter. If you need to wipe out crippling negativity and really energize people, Stephanie's non-hype approach to motivation provides the answers. Stephanie is now available through Speakers Inc.
She has an Honours Degree in Psychology and she has been successfully developing and training personal growth material in the South African market for many years.
Having read hundreds of personal growth and management books, Stephanie was most excited about Emotional Intelligence (EQ) as a life-management principle because it made more sense than anything preceding it.
Stephanie is an entrepreneur and runs a company which deals with business training and public training. She started working with personal growth training in 1992 and integrated the thinking on emotional intelligence into her work early in 1996.
As such she was the first local trainer to introduce this new material to the South African market. Connect with Stephanie on LinkedIn.
She has worked in major corporate businesses teaching her principles to a wide range of people ranging from factory workers to senior executives and their teams.
She has developed programmes appropriate for all levels in business and has been particularly well received.
What makes Stephanie's programmes different is that she has applied the EQ material to personal development. She views the emotions as messages and has developed an emotional dictionary to decode the meaning of feelings.
Her primary field is to give people insight into their emotional habits and provides tools to change behaviour to become more appropriate. She works with both the intrapersonal (self-management) and interpersonal (managing relationships) aspects of EQ. This is packaged into 10 Hallmarks to develop a healthy level of EQ.
Stephanie has a general EQ programme as well as leadership applications and an adaptation specifically dealing with the emotional challenges facing women who were socialised into traditional roles.
In South Africa she also runs cultural diversity programmes to overcome the difficulties of apartheid's damaging history. Additionally she applies this material to sales and customer service as both are dependent upon drive and attitude.
Stephanie Vermeulen-Emotional Intelligence
Stephanie published her best seller in 1999, namely, 'EQ: Emotional Intelligence for Everyone'.
She has been interviewed on South Africa's major radio stations and her work has been reported on in leading magazines & newspapers. She also initiated and successfully ran South Africa's first National Be Positive Day. This was aimed at addressing attitudes that are detrimental to the country's success. This will continue as an annual initiative.
In 2004, she launched her second book on women's issues entitled: 'Stitched-Up: Who Fashions Women's Lives?'
Stephanie has an academic background in formal psychology and with her reputation for 'pulling no punches', her witty and insightful presentations have made a great impact on thousands of people's lives as an inspiring conference speaker and personal coach.
Stephanie Vermeulen-Emotional Intelligence
Videos:
Books:
Stitched-Up: Who Fashions Women's Lives?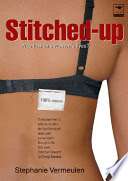 This feisty and inspiring treatise blames the destructive cultural myth of female self-sacrifice for the desire for breast implants, the conservative insistence on family values, and the general cultural attitude that prevents women from supporting one anothers accomplishments. Using everything from psychological analysis to clever fairy-tale parodies—called "fairer tales"—the author promotes an ideology for women that is neither bra-burning feminism nor passive conservatism, but rather a belief in self-development.