Zola Nene – Celebrity Chef culinary career spans over 10 years and started during her second-year study gap in England. After studying B Comm. Law for two years, Chef Zola Nene realised that it was not the career path she wanted to pursue and so applied for a UK holiday working visa and ventured off to England to discover what it was she really wanted to do.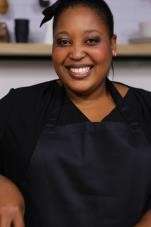 "I've always been interested in food so I decided to look for a job in a professional kitchen," reminisces Zola. "I worked in a brasserie in Cheshire for two years, first as a hot section chef and then as the head pastry chef. Book through
Speakers Inc
I have really paid my dues!" After her two-year stint in England, she returned to South Africa and immediately enrolled at the Institute of Culinary Arts in Stellenbosch. During her studies, she had the opportunity to work with some top local chefs such as Margot Janse of Le Quartier François and Chris Erasmus of Foliage Restaurant.
And then, after specialising in Food Media in her third year of studies, Zola perfected her trade as a food assistant at a leading food and lifestyle magazine for six months.
After graduating, Zola moved to Johannesburg in 2010 and worked at a large catering company as its catering manager.
It was around that time that the Expresso Show, a weekday, national morning breakfast TV show, was conceptualised and the producers offered her a position as its food stylist and has since risen to the position of resident chef on the show.
In February 2016, Zola released her first published cook book titled Simply Delicious, which is available at all good book stores nationwide. Follow Speakers Inc on
Twitter
In 2017, the book won the best English cookbook by a Celebrity Chef in the Gourmand World Cookbook Awards.
Zola's response to hearing about the award was that "… it truly is the best feeling to know that something so personal to me is considered special by other people too."
Zola Nene – Celebrity Chef develops recipes for brands and a variety of publications, is available as an emcee and food judge, and works as a food stylist.
Simply Delicious – Zola Nene In Zola Nene's own words, she says, 'Food has always been a huge part of my life; important occasions were always marked with a feast of some sort…' this book chronicles my food journey thus far – how it started and what has shaped me into the chef I am today.'
And that's exactly what Simply Delicious is all about; it's Zola's culinary career told through her recipes, interspersed with snippets and perspectives of her life journey, including tributes to the people who have inspired and influenced her cooking style and explaining the reason for certain culinary choices that she has made.
If one had to describe Zola's personality in a single idea, it would be 'irrepressible joy', which is the thread running through this journey as well as the state evoked by her delicious dishes.
Her food philosophy is very simple – cooking is for everyone. With easy-to-follow instructions, the recipes will ensure that anyone can produce mouth-watering results.